'Rick and Morty' Does a D&D Crossover, So Suck it, 'Stranger Things' Kids
Those losers from 'Stranger Things' got nothin' on us, Morty.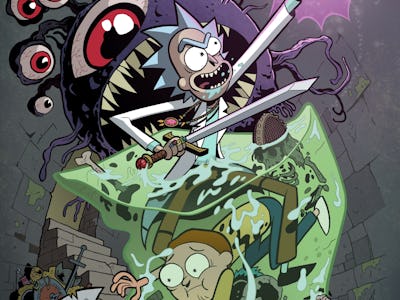 Oni Press / IDW Publishing
Somebody over at the Rick and Morty comic book publisher Oni Press heard that Infinity War was "the most ambitious crossover event in history," so they decided to do something even crazier: an official crossover between Adult Swim's mega-popular Rick and Morty and renowned fantasy nerdfest Dungeons & Dragons. If you thought Stranger Things was D&D-AF, then think again because in this comic, the entire Smith family from Rick and Morty is going inside a game of Dungeons & Dragons.
On Sunday at C2E2, Oni Press announced the collaboration with IDW Publishing on the new four-issue comic book series written by Patrick Rothfuss and Jim Zub with illustrations by Troy Little. The official series description sounds like the best episode of Rick and Morty we'll never see:
"Morty goes to Rick for help to learn about Dungeons & Dragons, the game all the cool kids at his school are playing; naturally, things go horribly wrong as Rick, Morty, and the whole Smith family find themselves on an epic quest with no escape in sight."
Unlike the kids from Stranger Things, Rick and Morty will actually experience a real-life game of Dungeons & Dragons. Those kids from Hawkins, Indiana simply ascribe D&D monster names to the much more dangerous creatures from the Upside Down, namely the Demogorgon and Mind Flayer. Mike, Will, and the rest of the Stranger Things kids might love D&D, but Morty Smith will truly live it in a way they can only dream of.
Based on the above poster and series description, we can safely assume there's a dimension out there in the Rick and Morty multiverse that is a real-life game of Dungeons & Dragons, complete with a 20-sided die they use to "play." In the poster above, Rick and Morty are trapped in some kind of water bubble while a Beholder (a "real" D&D monster) bears down on them. Generic dungeon rooms full of loot, horrible monsters capable of inflicting all sorts of status effects, and even an axe that says +1 on it?
Now that's Dungeons & Dragons at its finest.
Eat your hearts out Stranger Things kids because this is the most ambitious crossover event in history.
The Rick and Morty-Dungeons & Dragons crossover comic series debuts in August 2018 from Oni Press and IDW Publishing.