Elon Musk Teases Ultra-Fast Hyperloop Test With SpaceX Pod Coming 'Soon'
Musk could beat the current record.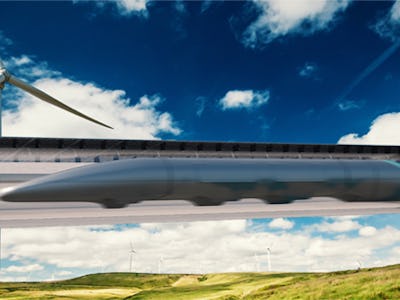 Giphy
Elon Musk is preparing for some big improvements to hyperloop. The tech entrepreneur hinted at some big upgrades to the transportation system on his Twitter page Sunday, claiming the SpaceX and Tesla pod will "soon" attempt to accelerate to half the speed of sound and brake in just three quarters of a mile. Depending on the conditions, that should equate to over 350 miles per hour.
If Musk can pull it off, it would be an impressive boost for the future-facing pod system that he first outlined in a white paper back in 2013. The original documents detail a vacuum-sealed tube with pods reaching speeds of up to 700 mph. Since publication, the closest anyone has come to that figure is Virgin Hyperloop One, which achieved 240 mph in December 2017 with its XP-1 pod running through a tube of depuressurized air to the equivalent of 200,000 feet above sea level. Musk's speed test would make this run look decidedly pedestrian:
Musk initially planned a hands-off approach to hyperloop, releasing the documents and allowing third parties to develop their own systems. He changed course in August 2017 after deciding other companies weren't moving fast enough. The Boring Company has since outlined a number of hyperloop-ready plans. A tunnel running from Washington, D.C. to Baltimore, detailed last month, would initially run as a "loop" service with optional upgrade into a full hyperloop at a later date.
Virgin Hyperloop One, which has repeatedly set speed records with its "DevLoop" test track in the Nevada desert, has also been hard at work convincing authorities of its hyperloop ideas. The company signed an "historic" agreement with the Indian state of Maharashtra in February to connect the cities of Mumbai and Pune. The move follows a global design challenge that sketched out routes for London, New York and Mexico City.
The race is on to get as close as possible to that 700 mph figure. Musk's next test could potentially beat the world's fastest train, Japan's L0 Series maglev with a speed of up to 375 mph.
That's a big "could" — the speed of sound is 767 mph at 68 degrees Fahrenheit through dry air, and Musk only said that he would "try" to reach the halfway mark. If he comes anywhere near, though, it will be a huge moment in hyperloop development.