Virgin Hyperloop One Just Revealed 'Historic' Plan to Build Public Route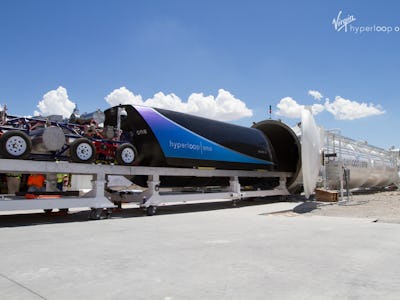 Virgin Hyperloop One
The transit system of the future took a huge step closer to reality on Sunday. Virgin Hyperloop One has signed what it's referring to as an "historic" agreement with the Indian state of Maharashtra, with a plan to link up 26 million people and host 150 million trips per year in what could become one of the world's first public routes.
"I believe Virgin Hyperloop One could have the same impact upon India in the 21st century as trains did in the 20th century," says Richard Branson, chairman of Virgin Hyperloop One. "The Pune-Mumbai route is an ideal first corridor as part of a national hyperloop network that could dramatically reduce travel times between India's major cities to as little as two hours. Virgin Hyperloop One can help India become a global transportation pioneer and forge a new world-changing industry."
The route will connect the cities of Mumbai and Pune, 75 miles apart point-to-point, with an interim stop at Navi Mumbai International Airport. The journey between the two cities normally takes around three hours by car or train, but Virgin Hyperloop One estimates the hyperloop trip will take just 25 minutes. Overall, the savings are expected to cut back on 90 million hours of travel time, reduce greenhouse gases by 150,000 tons per year and result in up to $55 billion (₹3.5 trillion) in socio-economic benefits like accident reduction.
View the planned route below:
Elon Musk's 2013 white paper, which detailed a vacuum-sealed pod transit system moving people at speeds on 700 miles per hour, has kicked up a gear in recent months as the company formerly known as Hyperloop One has made a number of critical steps. Branson announced his backing in October 2017, describing the firm as "innovative." In December 2017, the team released footage of a XP-1 test pod moving at speeds of 240 miles per hour, a new record. It's signed deals for feasibility studies with Missouri and Colorado, and the winners of a global design challenge suggest future work in London, Miami and Mexico City.
It's not the only player in town, though, with Musk's Boring Company also taking steps toward bringing the idea to life. The District of Columbia has granted Musk's firm a permit for excavation work in an abandoned parking lot, which could form the first step toward a system that ferries people from the capital to New Yrok in just 29 minutes.
Sunday's announcement paves the way for hyperloop to get its start in India. A six-month feasibility study will analyze the route alignment, building on the findings from a November 2017 pre-feasibility study, before entering a procurement stage to consider the public-private partnership. The demonstration track will be constructed in two to three years, and the full route completed in a second phase over five to seven years.
"We have always believed that India would be a tremendous market for hyperloop. The Pune-Mumbai route is one of the strongest economic cases we have seen to-date," says Virgin Hyperloop One CEO Rob Lloyd. "The State of Maharashtra has made a strong commitment to building the first hyperloop route in India. We are looking forward to partnering with the State as well as our partners to make the Pune-Mumbai route a reality."