'Rick and Morty' Season 4 Fan Backlash and #HarmonBlock2018 Explained
This Twitter hashtag tracks the horrifying amount of harassment Dan Harmon gets.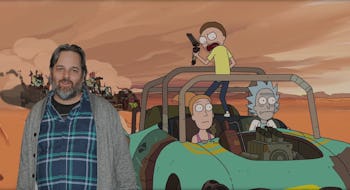 Paul Archuleta / FilmMagic / Adult Swim
Adult Swim's Rick and Morty is a cultural sensation that's spawned a ton of memes, but none is more obtuse and bizarre than the hashtag that chronicles a section of the show's fanbase as it engages with the show's co-creator Dan Harmon.
If there's one reliable source of information regarding the status of Rick and Morty Season 4, it's the Twitter hashtag #HarmonBlock2018. You might as well call it a tradition at this point, but Harmon has been very active on Twitter throughout Rick and Morty's rise in popularity. Over time, as Rick and Morty fans have harassed the creator, Harmon would engage when people complained about production delays. But like any sane person would, he would also wind up blocking plenty of people. He eventually started wielding #HarmonBlock like a banhammer so much so that everyone started joking about it, including him.
That being said, it still offers the sporadic update on Rick and Morty Season 4. Why, just on Tuesday, a Twitter egg named "Randy Yawn" (definitely a #HarmonBlock victim that created a new account) harassed Harmon, and we got another update about the new season:
The last major update we heard about the show's status came in March, when Harmon confirmed on Kevin Smith and Scott Mosier's SModcast podcast show that Rick and Morty was still caught up in "contract negotiations." Within the television industry, creators and networks negotiate the finer details of the contract, and once all that's confirmed, a network will formally "order" a new season of a show. So when Harmon says that the season has still "not been ordered," that means there hasn't been a single update on the show.
All that being said, if you appreciate Harmon's brand of humor, following the #HarmonBlock campaign is a great place to get a taste of his self-deprecation and brilliance at delivering hilarious owns to idiots on Twitter, such as this exchange:
Harmon's response to a "fan" trying to explain the psychology behind #HarmonBlock?
#HarmonBlock had its humble beginnings in 2017 as #HarmonBlock2017, circa February 2017 when Harmon endured tons of harassment about the release date of Season 3. Remember that the Season 3 premiere on April 1 was a total surprise for everyone. During Season 3, "fans" harassed the show's female writers for stories that they simply didn't like. As soon as Season 3 finished airing, the harassment kept coming.
The fact that #HarmonBlock exists just serves as evidence of just how horrid people on Twitter can be, especially those malignant fans who have earned the Rick and Morty fan base such a negative reputation. They spend so much time posting racist, sexist, and other offensive thoughts on Twitter. Harmon gets a lot of negative attention in particular for being a big drinker:
Shitty people like these are part of the reason why Rick and Morty is so contentious, and for all we know, maybe it plays a part in the show's many delays. People think having a Twitter account gives them the right to harass Dan Harmon, but why?
As they say, karma's a bitch, which why we got the horrible dumpster fire that is this year's Rick and Morty April Fool's joke: the truly awful "Bushworld Adventures".
The next time you feel like feeding the #HarmonBlock2018 dumpster fire, force yourself to watch "Bushworld Adventures" again instead as pre-punishment: