How A.I. Projects are Fighting Fake News in the Age of Facebook
A new battle is emerging.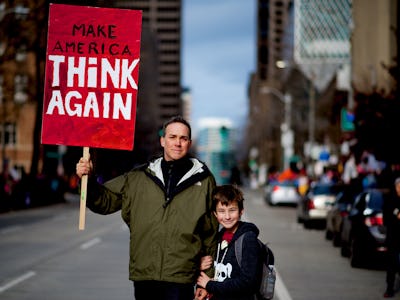 Unsplash / Jose Moreno
Fake news — a favorite term of President Donald Trump and Collins Dictionary's Word of the Year — is about to meet its match. After fears that fabricated stories — propagated through a Facebook algorithm that encourages shared content — influenced the 2016 presidential election, developers are taking action.
Facebook has found itself in hot water over unverified stories speeding their way through the social network. Initially, CEO Mark Zuckerberg dismissed claims it influenced the election by saying in November 2017 that it's "a pretty crazy idea." It's since reversed course, outlining a plan a month later to integrate Snopes and other Poynter code signatories into the news feed to flag up falsehoods.
In the past seven days, two new startups are picking up the fight against falsehoods. Cyabra, selected on Thursday for a commercialization program, uses A.I. for real-time threat detection to allow brands to stop falsehoods spreading. Knowhere, an A.I.-powered news site that launched Wednesday, attacks the issue from an alternative perspective by aiming to generate unbiased news stories.
"Much of today's bias problem — in both coverage and consumption — is the result of a far more fundamental information crisis," Nathaniel Barling, co-founder of Knowhere, tells Inverse. "We create, store and communicate information at a speed and scale human journalists can't keep up with alone. Major social media and search platforms combat this by curating results, but the result is that we all end up within political, geographical and cultural information silos."
Knowhere aims for unbiased coverage by scouring sites as varied as the New York Times and Breitbart and developing stories from the information with three controversial "spins": left, impartial, and right, as well as positive, impartial, and negative. It produces a story between 60 seconds and 15 minutes, and then a human journalist reads over the final story. On Wednesday, the team launched from stealth after three years of development with $1.8 million in seed funding.
"We believe there are certain tasks machines do better, such as scouring the internet for a huge amount of source information, and others humans do better, such as making the nuanced and multi-layered editorial calls required to deliver impartial truth to readers," Barling says. "Journalism is not a profession that can be automated end-to-end, and that is not our goal."
These aren't the only A.I. projects fighting against fake news. Israeli A.I. startup AdVerif.ai, which launched in November 2017, helps ad agencies identify fake stories to ensure their brand doesn't appear alongside it. A cybersecurity division of Cisco called Talos Intelligence won a Fake News Challenge held in June 2017 by identifying false stories with 82 percent accuracy. Aaron Edell, CEO of Machine Box, claims his project offers 95 percent accuracy.
Unlike these tools that focus on the news consumer, Cyabra is focused on brands and public figures identifying threats. The team includes former Israeli Defence Force officers with experience in cybersecurity, plus an ever-improving A.I.-powered algorithm. On Thursday, the startup was one of seven selected for the seven-month Bridge 2018 Accelerator Program that offers guidance to Israeli startups and helps them link to global businesses.
"The fast and efficient detection of fake accounts could mean effective action for brands, and also make social networks less susceptible to fake news," co-founder Dan Brahmy tells Inverse. "As many people become suspicious of digital interactions on social platforms, a tool like this could rebuild public trust in them and in brands using facts and data rather than rumors and disinformation."
Mark Twain once said that "a lie can travel halfway around the world while the truth is putting on its shoes." With the speed of lies growing faster, these systems are needed now more than ever.