Snap Maps Show Police Activity Around YouTube Headquarters After Shooting
The heat map shows footage of the crime scene.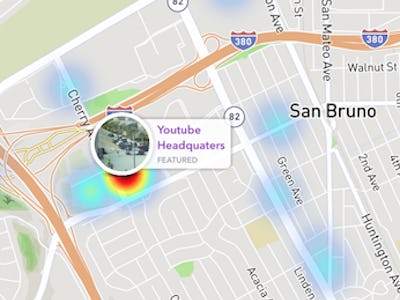 Snap Inc.
Reports out of San Bruno, California of an active shooter at YouTube's headquarters on Tuesday afternoon have been marred by chaos. As of this writing, police chief Ed Barberini confirmed a 36-year-old man was in critical condition, a 32-year-old woman was in serious condition, and a 27-year-old woman was in fair condition.
Amid the developing news reports, the area's Snapchat map is flooded with activity thanks to rapidly uploaded footage from users.
Within moments of YouTube employee Vadim Lavrusik tweeting the breaking news, the Snap Map in the area appeared to heat up.
The video-sharing platform's Silicon Valley offices reportedly house up to 2,800 employees, and hundreds of the workers have been evacuated from the building, according to local authorities. All the while, Snap's geographical map surrounding the scene has been displaying footage of evacuations and panic from local Snapchatters.
For its turn, Snapchat has featured the area's under the "YouTube Headquarters" banner on the map.
This isn't the first instance of the feature being used to inform folks of a tragic event. In the wake of the recent Parkland High School mass shooting in Florida, young Snapchat users were spotted using the app's feature to find anti-gun protests. During those protests, Snap Map event names across the countries included "Gun Control Rally" in Tallahassee, Florida, "Gun Control Walkout" in south Florida and "D.C. Walkout" in the capital.
Snap Map was launched in 2017 by Snapchat as a way for its users to keep up with their friends' whereabouts.
"On Snap Map, you can view Snaps submitted to Our Story from all across the world — including sporting events, celebrations, breaking news, and more," the company's site states. "You and your friends can also share your locations with one another, and see what's going on around you."
Snap Inc. could not be reached for comment regarding the maps feature's heavy use in San Bruno.