'Black Lightning' Is Making Inspector Henderson Its Commissioner Gordon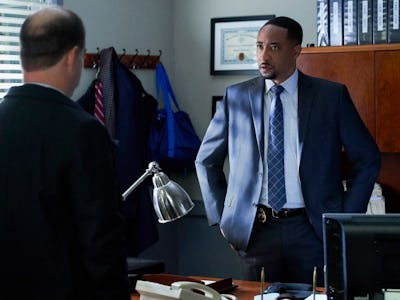 The CW
Since Black Lightning came out of retirement, Inspector Henderson has been against his vigilante method of keeping Freeland safe. Despite this, Henderson decides to team up with Black Lightning to remove the dirty cops in the corrupt precinct he works in. That mission allows for Henderson find new professional success, but it also means his future on Black Lightning is just going to get more complicated.
Henderson's begrudging cooperation with Black Lightning may morph into a new kind of relationship moving forward. One where he relies on his vigilante ally the way Batman fans have seen Jim Gordon work with the Dark Knight in the past.
Spoilers for Black Lightning.
In "Black Jesus: The Book of Crucifixion", the A.S.A. makes its move on Jefferson Pierce in order to finally expose him as Black Lightning. Anissa and Gambi work together to clear his name while Henderson tries to figure out why Jefferson won't accept his old friend's help.
While Jefferson won't let Henderson in, his arrest provides an opportunity to clean up his department. Not only does he lock up the dirty cops, but he also gets a highly publicized promotion to Deputy Chief and promises a better police department. Henderson is now in a position to get back to keeping the streets of Freeland safe and taking on the 100 with the full force of the department. Following that logic, it would also make sense that Black Lightning would be bumped back down to unwanted vigilante from unlikely ally.
The biggest obstacle in Henderson achieving that goal is that he does not know half of what's happening in Freeland. He may think it's the 100 is all he's facing, but there's much more to the criminal activity in the city. Not only is the A.S.A experimenting on people and kidnapping kids, but the entire town is essentially a testing site for the organization. When faced with just how well-funded this group is and the metahumans they've created, Henderson may need to call in some help.
A potential partnership between Black Lightning and Henderson makes sense to face the A.S.A threat. To help the metahuman teens and cut off the 100's A.S.A. funding the two could come together. Black Lightning is not going to stop and Henderson will probably need the vigilante to get the information he doesn't have about the group.
The fight against the group could be the beginning of a beautiful new friendship. Or at least beneficial partnership.
Whatever direction Black Lightning takes Henderson moving forward, it is clear that he is making his way closer to the center of the action.
Black Lightning airs on Tuesdays at 9 p.m. Eastern on The CW.