'A Quiet Place' Star John Krasinski Wants to Be in 'Fantastic Four' Movie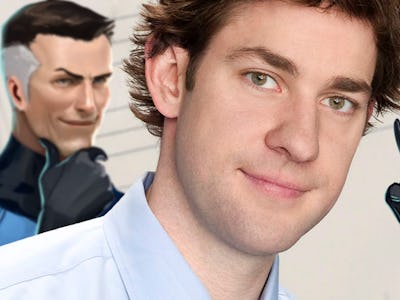 NBC, Marvel Entertainment
Fans of the Fantastic Four are having the best week in years. Short of a new movie actually being produced by Marvel Studios, the First Family of Marvel Comics are on the verge of a comeback, and there's at least one big name actor who is up to play Mr. Fantastic if (another) movie reboot happens.
While on the press tour for his new film A Quiet Place with co-star and spouse Emily Blunt, actor John Krasinski said he would "love" to play Mr. Fantastic.
"I would love that!" he told ScreenRant in an interview. While Krasinski admitted he didn't read a lot of comics as a kid, he says he is a fan of the genre. "I'd love to do something like that. If they're are any left, a lot of these have been taken but the ones that are left, yeah, I would love to do something like that."
ScreenRant also proposed the possibility of working with Blunt again, who suggested Blunt could star as Sue Storm, also known as the Invisible Woman. "And listen, I'd love to work with her again so any chance I got would be great."
Of course, if Krasinski becomes the new Reed Richards, it wouldn't be the first time Jim has been around the Marvel Cinematic Universe. Prior to casting Chris Evans, Krasinski nearly landed the role of Captain America, until Krasinski dropped out after seeing the beefy Chris Hemsworth walk past in full Thor costume. "I went, 'I'm good,'" he said in a 2016 appearance on Conan. "'This is stupid. That's okay, I'm not Captain America.'"
After 2015's Fantastic Four reboot bombed at the box office, Marvel quietly pushed the Fantastic Four to the shadows in virtually all media, including comics, canceling Fantastic Four at issue #645. But last week, months after Disney's acquisition of 20th Century Fox (pending approval from the U.S. government) which owns the cinematic rights to the Fantastic Four and X-Men, Marvel announced the return of the Fantastic Four under writer Dan Slott and artist Sara Pichelli. The comic will return this August.
A Quiet Place will be released in theaters on April 6.