WhatsApp for iPhone Update: What to Know About the New Features
The app continues to unroll new changes for iPhone users.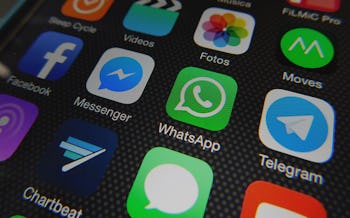 Flickr / Microsiervos
Just a week after WhatsApp added new features on Android beta, the Facebook-owned app has added a few more changes to its update for iOS users.
Last week, WhatsApp rolled out an improved version of the Change Number feature, letting users choose if they want to notify all contacts about the switch or select specific people. The app continues to unroll new changes for iPhone users in version 2.18.40, now available for all devices running iOS 7.0 or later.
In this new update, iPhone users should now see recent status updates in a new WhatsApp widget on iPhone's Today View section. The update also enhances the voice messaging feature by continuing to play voice messages even if the user switches to another app or closes their screen. Sure, most data shows that fewer people are using voice messages, and Millennials aren't even checking voicemail, but those still communicating via voice message will find an easier time retrieving messages when switching between apps and multi-tasking.
WhatsApp is no stranger to backlash for past updates and changes, such as when American policymakers criticized the app's move towards end-to-end encryption. United States Senator Tom Cotton called the app "an open invitation to terrorists, drug dealers, and sexual predators to use WhatsApp's services to endanger the American people." The app has also received ongoing scrutiny of its privacy policy. Two years after Facebook acquired WhatsApp, the app had to update its terms of service due to backlash from users not wanting their information shared with the parent company.
Comparatively, a streamlined voice messaging service seems like an agreeable update, but it might not be the only change. According to WABetaInfo, a website that tracks changes in WhatsApp's beta, more new features are on the horizon. The beta-monitoring account claims that the iOS version of WhatsApp will soon get features such as dark mode, Touch ID support, polls in groups, and the ability to add as many as 4,096 people in a group. Currently, the app allows group to have a maximum of 256 users.
While many of WhatsApp's upcoming changes are unconfirmed, its current updates in iOS and Android suggest that app is shifting focus away from new innovation and looking to improve its lesser-used features.