Google Maps 'Where's Waldo?': How to Become a Waldo Master in an Hour
Get ready to strain your eyes.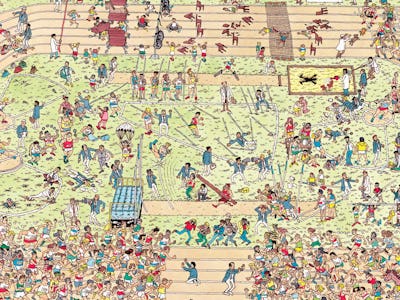 Google
On Saturday, Google added the childhood puzzle game Where's Waldo? into its maps service. Players are tasked with finding Waldo and his friends in locations across the globe by carefully inspecting illustrations in the same style as the book creator, Martin Handford. Those who successfully completed the game took to Twitter using the #WheresWaldo hashtag to show off their "Where's Waldo Master" badge.
Twitter user @AbraShen posted her badge just hours after the game went live. She said it took her about an hour to find Waldo in six locations, including the secret level. For help on getting to the secret level, @LetsRestHere suggests starting the levels on satellite view in order to see the last level. Here's a hint: it's in space.
Both Twitter users @DiViexi and @wagner_kassidy sped through the game to beat it in 20 and 30 minutes respectively. And Twitter user @pthoresen said he's so proud of his "Where's Waldo Master" badge that he's going to put it on his resume.
Where's Waldo? is available on both the Google Maps site and apps. The option to play the game will show up once the application starts, and players will see their first illustration. Finding Waldo and others – including Wenda, Woof, Wizard Whitebeard, and Waldo's nemesis, Odlaw – is a breeze in the first level. Players can also go to the next level by only finding Waldo, but finding everyone on each level is required to get the final badge. Each level takes place at a new location with the illustrations ramping up in difficulty with the sheer numbers of characters a player must find. Finishing levels earn users badges with the final badge, "Where's Waldo Master," earned when Waldo and friends are found in all six levels.
Google plans to keep Where's Waldo? on Google Maps for only a week. Users can start trying to find Waldo on their computers at the Google Maps site or on the iOS and Android app.
The idea for adding the childhood game to Google's mapping service came from Google Maps product managers Max Greenwald and Shreena Thakore. The two were fans of the search engine's April Fools' Day pranks and wanted to do something special for the day that wouldn't take away from the functionality of the app.