Happy Birthday Jeopardy! Watch These 5 Insane Jeopardy Moments
Alex Trebek didn't see these coming.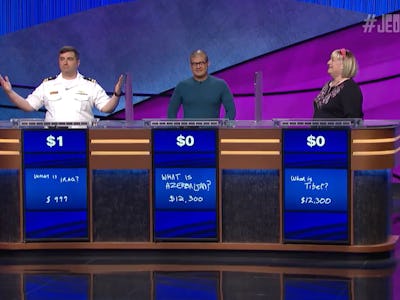 Benny E/YouTube
Jeopardy hit the airwaves 33 years ago today, and it's still going strong. The show's debut on March 30, 1964 was preceded by such a simple yet effective pitch — Why aren't there any "answer and question" shows? — that NBC didn't even bother with a pilot show. The network's certainty around its success was a sign of its future impact, with Alex Trebek serving as the iconic face of the show since 1984.
Here's a look at the five most memorable moments on the show:
5. The $1 Winner
When Manny Abell, a naval officer from Lacey, Washington, took to the Jeopardy stage on October 2017, he probably didn't expect to make history. When his two competitors went all-in on the last question, Manny only placed $999 of his $1,000. Everyone got the answer wrong, and Manny walked away with the incredibly small win — a feat also achieved in 1993 by air force lieutenant Darryl Scott.
4. A.I. Takes on the Challenge
IBM made history in 2011, when it sent its Watson artificial intelligence system onto the show. The machine went on to win $77,147, beating legendary players Ken Jennings (the 74-time winner scored $24,000) and Brad Rutter (the 20-time winner scored $21,000):
3. The Solo Final
Even 33 years after Jeopardy first hit the airwaves, the show still holds some surprises up its sleeves. In March 2015, returning champion Kristin Sausville made it to the final round as her other opponents were eliminated. Trebek and Sausville were left to merrily quiz away without any other contestants:
2. Wolf Blitzer
The CNN anchor may be a household name for his coverage of hard-hitting news, but under the Celebrity Jeopardy spotlights he didn't fare so well. In September 2009 he faced off against comedian Andy Richter and actor Dana Delaney. The first round saw him score a measly $-4,600, with answers like "Jerusalem" for the town where Jesus came from and "fettuccine" for a pasta that means "little moustaches." Blitzer got a conciliatory $5,600 bonus to make sure he could play in the final game as outlined in the rules, where he eventually moved to $2,000. Richter set the record for highest single-show earnings in a celeb game with $68,000 in the final round.
1. Ken Jennings Meets His Match
Jennings — who would go on to face off against Watson — was on an unbelievable winning streak that started on June 2, 2004. His winning streak of 74 games lasted 182 days, but it all came to an end on November 30 against challenger Nancy Zerg in possibly the most historic moment in Jeopardy history: