Watch a 'Jeopardy!' Contestant Win the Game With Just $1
Manny Abell pulled off a stunning victory.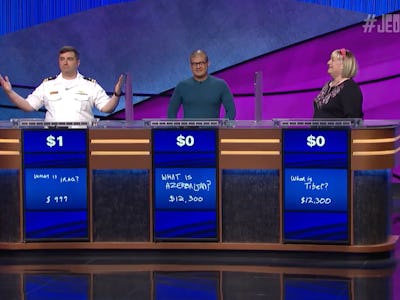 Benny E/YouTube
A contestant on Jeopardy! Tuesday night pulled off a stunning win when he won the show with just a dollar in cash prize. Manny Abell, a naval officer from Lacey, Washington, beat out two other contestants to retain his place as champion, after putting nearly all his money on the last question and getting it wrong.
"The smallest win in many, many, many years," said show host Alex Trebek.
Manny, who had a running total of $42,798 at the start of the game, slipped far back into third place by the end of the second round. His two competitors, tied for first place, battled it out. It was all going well until the last question: "What country bordered the Caspian Sea and the Persian Gulf?"
His competitors guessed Azerbaijan and Tibet, while Manny put "Iraq." The correct answer is Iran, so everyone lost their wager on the question. But while Manny waged $999 of $1,000, his competitors both placed all of their $12,300 down, meaning he suddenly surged into first place and edged out a victory.
Jeopardy! has played host to a number of zany incidents over the years. In 2011, IBM's cognitive computing system Watson went onto the show and defeated two champions, in a landmark victory that heralded the rise of smarter artificial intelligence systems.
Some contestants have also used the show to launch successful careers. Arthur Chu, who won 11 times, went on to write for a number of publications that included the Washington Post, Business Insider and The AV Club. Last year, he told Inverse how his appearance on the show as the "weird, awkward guy" helped propel him into the public eye as a commentator on geek culture.
It's also not the first time someone has won the show with just a dollar. Back in 1993, air force lieutenant Darryl Scott faced off against returning champ Nancy Melucci and Kate Marciniak. As in Manny's case, Scott triumphed when everyone lost on the last question, thanks to his decision to save a dollar.
Watch the feat in action here:
And watch Scott's victory here: