Watch 2 NASA Astronauts Take a Spacewalk Live Outside the ISS
This is the 209th spacewalk since the launch of the ISS.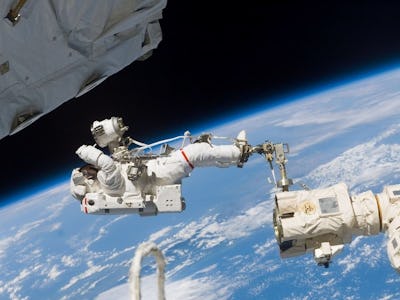 NASA
On Thursday, beginning at 9:33 a.m. ET, astronauts Drew Feustel and Ricky Arnold ventured outside of the International Space Station for their first spacewalk since their arrival on March 23 aboard the Soyuz MS-08 spacecraft. The excursion marks the 209th in support of assembly, repairs, and upgrades to the exterior of the space station. This will be Feustel's seventh and Arnold's third expedition outside of the ISS.
The two Expedition 55 Flight Engineers will be installing wireless communication devices, replacing high-definition video cameras, and removing old cooling hoses. This renovation operation is expected to last six and a half hours. It was originally scheduled for 8:15 a.m. but it was delayed after leak checks in Feustel spacesuit took longer than expected.
Join our private Dope Space Pics group on Facebook for more strange wonder.
NASA TV will be live streaming the spacewalk for its full duration.
Expedition 55 doubled the crew aboard the ISS. Feustel and Arnold were accompanied by cosmonaut Oleg Artemyev during their initial launch. The trio joined cosmonaut Anton Shkaplerov, NASA astronaut Scott Tingle, and Norishige Kanai from the Japan Aerospace Exploration Agency, who are already aboard the orbiting lab.
Aside from repairing and upgrading the outside of the space station, all six of the space adventurers are also responsible for overseeing the hundreds of experiments currently underway aboard the ISS.
This mission is scheduled to last around five months in total. Feustel, Arnold, and, Artemyev will be returning to Earth on August 27 aboard the same Soyuz spacecraft they arrived in after three new space travelers join them in orbit earlier in the summer.