BMW's Mini Cooper is the Latest Classic Car to Get Electric Makeover
Still adorable and now environmentally friendly.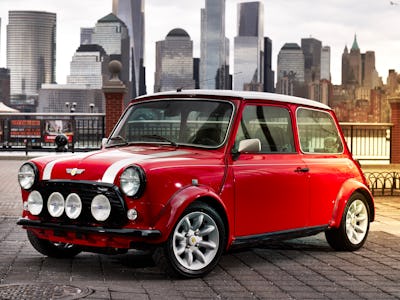 BMW
The first look at the future of automobiles comes at the various auto shows around the globe. At the New York International Auto Show, BMW took one of its most iconic classic cars and gave it an electric twist.
On Tuesday, the automaker announced plans to show off their classic Mini Electric. The concept car has the now delightfully retro look of the original, but it's an all-electric vehicle. Like other concept cars, however, it won't be for sale.
The classic Mini Electric is the third concept car based on the pint-sized vehicle originally from the UK. Other versions based their design on the Mini, but this is the first one with the classic look. BMW revealed its Mini Electric last year at the Frankfurt Motor Show and will start production on the vehicle next year. Then in 2008, BMW developed the Mini E based on the Mini 3 Door, which led to the development of the BMW i3 in 2013.
"The classic Mini Electric is the result of an imaginary journey through time, where the story of classic model is extended by a consecutive chapter," BMW said in a press release. "The original from the second half of the 20th century becomes a sympathetic ambassador for environmental awareness and a form of sustainable mobility whose future has just begun."
Attendees of the New York International Auto Show will have a chance to see the classic Mini Electric in-person when the show opens to the public on March 30. The Mini Electric starts production next year, just in time for the Mini's 60th anniversary.
BMW isn't the only company to make an electric car based on a classic. Last year, Honda revealed their Honda Sports EV Concept based on its 1970s hatchback cars. Volkswagen took their familiar Volkswagen Microbus and made it electric with the I.D. Buzz, which is set for release in 2022. Some car enthusiasts took it upon themselves to make their classic cars electric such as 1957 Ford Fairlane, a London black cab, and even a dune buggy called the "Tesla Sand Truck."