A 'Last Jedi' Character Was Secretly Force-Sensitive, Actress Says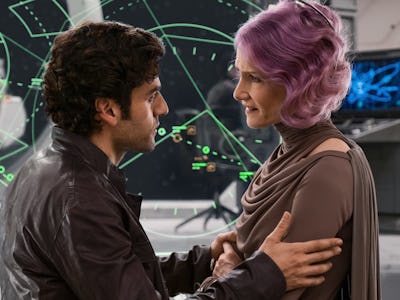 Lucasfilm
The actress behind one of The Last Jedi's most controversial new characters just claimed Star Wars has a new Force-sensitive hero. In an Entertainment Weekly interview published on Tuesday, actress Laura Dern claimed that Vice Admiral Amilyn Holdo was Force-sensitive all along. She revealed that in discussing her backstory with director Rian Johnson, they decided that she "had this otherworldly side that does involve the Force."
It's easy for people in and out of the Star Wars galaxy to assume the Force is all about swirling lightsabers and Force-choking incompetent or disobedient officers, but if The Last Jedi taught us anything, it's that the franchise is trying to do away with the Jedi and redefine the Force for a new generation of fans. General Leia's own impressive display of the Force in The Last Jedi was a testament to that, with Holdo's aim — and her own power — perfectly aligned with that of Leia's.
Dern revealed that she considers Holdo a "hippie" who idolized Leia since they met as teenagers in Claudia Gray's YA novel Leia, A Princess of Alderaan. Much like her mentor, Holdo wanted to preserve and inspire hope in the galaxy. "Her primary goal was to protect the light, to protect the Force, and to keep the revolutionaries alive," Dern said. "And I think the film speaks so beautifully to that with this last image of the next generation of the Resistance, you know?"
Dern is, of course, referring to what's collectively been called the "Holdo Maneuver,", in which Holdo sacrificed herself by activated the hyperdrive on the Resistance cruiser and driving it straight through the First Order Dreadnaught. She was a commanding leader capable of incredible things specifically because of her connection to the Force, but in some ways, trying to retroactively make this claim overcomplicates the Star Wars universe, even if it does help in the "democratization of the Force."
New types of Force-sensitive characters like Maz Kanata and even the "Broom Kid" are great for growing Star Wars beyond the binary of the Jedi and Sith, but it also becomes a thin line to tread. You could explain any highly-skilled character's abilities as them being Force-sensitive.
Maybe we ought to just echo the immortal words of Han Solo here from in The Force Awakens when Finn misunderstood its capabilities: "That's not how the Force works!"