Video Game Hall of Fame 2018 Nominations Include Some Surprises
'Tomb Raider,' 'Call of Duty,' and 'Spacewar!' are in the running for the Class of 2018.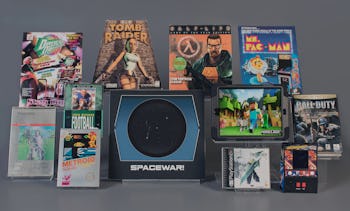 The Strong National Museum of Play
This year's finalists for the World Video Game Hall of Fame, located at The Strong museum in Rochester, New York, has some surprising — and maybe unexpected — candidates. And in a change of previous years, The Strong will choose one game based on public vote. Will John Madden Football be immortalized with the likes of Pong, Pac-Man, and The Oregon Trail? Maybe!
On Tuesday, The Strong announced this year's candidates for its World Video Game Hall of Fame. The curated titles range wildly in different genres and eras, from classic '70s and '80s arcade icons to the "firsts" for today's blockbuster franchises. For the Player's Choice ballot, voting will take place online between March 27 and April 8. The final inductees will be revealed on May 3.
Since 2015, The Strong, which on its website describes itself as "a highly-interactive, collections-based museum devoted to the history and exploration of play," has housed the World Video Game Hall of Fame, which chooses six games become permanent items in the exhibit each year. Games are chosen based on a criteria of "Icon-status," "Longevity," "Geographical reach," and "Influence," which dictates that the game has "exerted significant influence on the design and development of other games, on other forms of entertainment, or on popular culture and society in general."
Based on this year's candidates, all twelve could easily qualify.
Asteroids (1979)
One of the first big arcade games of the medium's "golden age," Atari's Asteroids was an epic challenge with minimalist design. The game toppled Space Invaders in popularity, with as many as 70,000 units sold in its heyday. Future classics like Defender and Gravitar can trace influence back to Asteroids.
Call of Duty (2003)
It felt like playing Saving Private Ryan. The first Call of Duty, released by Infinity Ward/Activision for the PC, cemented cinematic FPS games as the blockbuster standard. Today, the Call of Duty series is one of the best-selling game franchises of all time, complete with entire pro teams devoted to playing the game with millions of dollars at stake.
Dance Dance Revolution (1998)
An arcade favorite from Japan that spread across the globe like a pulsating virus, Konami's Dance Dance Revolution's revolution was letting players use their feet instead of their hands. Though not the first music and rhythm game, it was one of the most popular, and helped usher motion games as a popular platform for health and fitness.
Final Fantasy VII (1997)
To sum up the impact of Final Fantasy VII in a short paragraph is a fool's errand. So I'll just say this: To this day, fans still wonder if there's a way to save Aeirth.
Half-Life (1998)
If Half-Life existed purely on its own, it would be remembered for its unique storytelling — players control the speechless Gordon Freeman for the entire game, no cutscenes — as well as being a first-person shooter that relied on puzzle-solving and ingenuity instead of all the bullets loaded in a big gun. But the modding done to it after its release may be just as, if not more important. Half-Life gave the world Counter-Strike, which gave the world Team Fortress. And all those games would come to influence the likes of Overwatch, as well as other modded hits like PlayerUnknown's Battlegrounds and Fortnite.
John Madden Football (1990)
The first sports game to have a chance in the vidoe game hall of fame, the originator to EA's massive — and annual — Madden NFL series introduced complexities like statistical modeling. Suddenly, a virtual football field became a battleground, with players behaving like coaches but thinking like generals. The Madden series thrives today with all new bells and whistles that stunningly recreate what it's like to be on the gridiron.
King's Quest (1984)
A major player in the era of computer adventure games, King's Quest stunned with what was breathtaking graphics at the time. Designed by Sierra On-Line cofounder Roberta Williams, this fantasy game also had unexpected humor that helped make it a best-seller. King's Quest soon produced seven sequels and inspired countless more.
Metroid (1986)
As gamers initially roamed and fought to survive an H.R. Geiger-influenced nightmare hellscape on the NES, little did they realize they were playing as a woman. On its own, the game is a thrill-seeker's dream, but the "reveal" that the Samus Aran avatar was female would be a quiet revolution in gender representation in the medium.
Minecraft (2009)
Not only does Minecraft live up to the modding spirit left by Half-Life, but its existence put the rise of live-streaming into overdrive, creating a million dollar cottage industry.
Ms. Pac-Man (1981)
A sequel to Pac-Man, the gender-flipped sequel featured more complex puzzles and smarter opponents than the male predecessor. People play Pac-Man, but gamers play Ms. Pac-Man.'
Spacewar! (1962)
With Ready Player One about to launch into theaters, the inclusion of Spacewar! — the second video game ever in history — is a timely one. Built in 1962 by students at MIT, Spacewar! would inspire Nolan Bushnell, who went on to found Atari and create more games that birthed the industry into what it is today.
Tomb Raider (1996)
A fusion of James Bond and Indiana Jones, the original Tomb Raider for the first PlayStation dazzled with explorable 3-D environments, puzzles, and a cool-as-hell female protagonist that excited both young girls and boys. The game served as the basis for two movies starring Angelina Jolie, and the recent reboot starring Alicia Vikander.
**The Strong will announce the 2018 inductees for the World Video Game Hall of Fame on May 3. Voting for the Player's Choice entry will take place online between March 27 and April 4.