These 4 Games Just Entered the Video Game Hall of Fame
You won't be disappointed to see your favorites honored.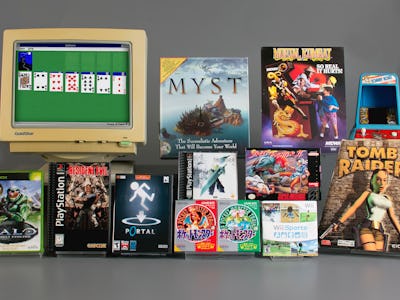 Museum of Play
The Strong National Museum of Play — located in Rochester, New York — is known for honoring many areas of play (they inducted "the swing" into their hall of fame last year), and this year, four of the best games ever were officially inducted as permanent installations as part of the World Video Game Hall of Fame.
Established in 2015, the Strong's World Video Game Hall of Fame houses electronic games of all types: Games comes from all kinds of consoles, including arcade games, and span from classic era to more contemporary games. The criteria for induction include icon-status, longevity, geographical reach, and overall influence on culture. Since the Hall of Fame's inception, games like Grand Theft Auto III, The Legend of Zelda, Super Mario Bros., Tetris, and World of Warcraft have joined the ranks as Hall of Famers.
Amidst 12 solid contenders that included the likes of Microsoft Windows Solitaire (boo!), Final Fantasy VII, Tomb Raider, and Resident Evil, the following four inductees were selected to join the Hall of Fame:
The official inductees were announced on May 4 at a special ceremony held at the Strong museum and then broadcast via the above tweet to the public. That means that each of these games will now have permanent installations at the museum.
After its release, Donkey Kong quickly became Nintendo's most profitable game ever, surging the career of designer Shigeru Miyamoto forward. Beyond that, it also introduced the world to Mario and, of course, Donkey Kong, two of Nintendo's most iconic characters.
Street Fighter II (1991)
Arguably one of the first and best straightforward "fighting games" ever, Street Fighter II marked a turning point in the arcade explosion of the '90s. It remains one of the best-selling arcade games ever.
Pokémon Red and Green (1996)
Though many confused Americans might remember the OG Pokémon games as Red and Blue, their very first release in Japan was indeed as Red and Green. What began as a mobile game about capturing monsters has since exploded into a global phenomenon that's spawned all manner of sequels, spin-offs, and a diverse array of media content.
Halo: Combat Evolved (2001)
Originally a launch title that came along with Microsoft's first video gaming console, the original Xbox, the first Halo game launched a flagship sci-fi first-person shooter franchise for Xbox consoles that fans still love to play today.