Comedians in Cars Getting Recapped: The Trevor Noah Tryout
Trevor Noah comes to America, fits in.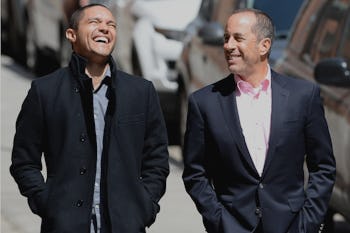 Like most of America, Jerry Seinfeld doesn't really know Trevor Noah. The future Daily Show host is a relatively recent import and a confusing one at that. Noah, who comes from a multi-racial, multi-lingual background and a dark period of South African history, is easy to describe in terms of his genetic and intellectual properties (six languages!) but hard to describe as an act or human. What Seinfeld knows is what we all know: This dude is gonna have a loudspeaker.
In many way, the Comedians in Cars Getting Coffee episode in which Noah and Seinfeld head to Dumbo for a drink and a stroll plays out like a job interview. As the de facto head of American comedy, Seinfeld feels comfortable vetting Noah for, well, the rest of us. Noah acquits himself well by pushing back.
"You have the humility of a colonizer," he says to Seinfeld after he suggests a South African tour. Seinfeld laughs because this is true and presumably because he's a white dude famous for being awesome at white male comedy. Noah isn't that guy and he doesn't want to be that guy. He's clearly used to the role of the upstart, the rebel — and that prepares him rather well to take over for Jon Stewart, who still talks like an underdog even though he's not that sort of animal at all.
What's admirable about Seinfeld is that he likes Noah. He's not threatened by this new thing coming or the potential obsolesce it represents. He's happy to just be Seinfeld and float above the fray. But he doesn't mind talking about the fray, and Noah is ready to jump in.
"If you find the right balance between desperation and fear, you can make people believe anything," the South African comic says, neatly summing up the theme of The Daily Show.
Seinfeld's reaction is telling. He goes along and talks politics for a bit, but then changes the conversation entirely. "Want to go to the Mets game?" he asks. That's as close as Noah is going to get to the Seinfeld-Good-Housekeeping seal of approval. Welcome to New York Noah. You're in.