Why Spotify on Apple Watch Could Bring an iPhone-Free Future
It's not just about music streaming from the wrist.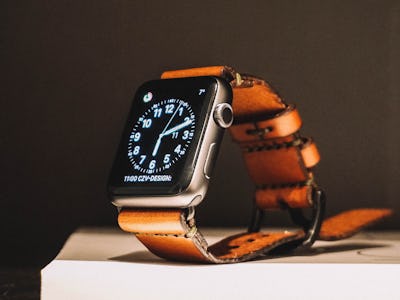 Unsplash / Jens Kreuter
Spotify could come to the Apple Watch, and the tools used in its development may enable people to ditch the iPhone from their pocket. The music streaming service is rumored to be bringing its app to the smartwatch at Apple's annual Worldwide Developers Conference this June, an example of a new StreamKit tool set to debut in an upcoming watchOS 5 update.
A report from MacRumors claimed on Monday that Spotify would finally debut an Apple Watch app, three years after the watch itself hit stores. The Series 3 watch that debuted last September enabled cellular connectivity, and StreamKit could enable developers to send push notifications directly to these watches without an iPhone acting as the middleman. Spotify is set to be a key example of the new apps this toolkit enables, similar to how Apple used apps like the Ikea catalog to demonstrate ARKit's augmented reality tools in iOS 11 released last year.
The news comes just under a year after developer Andrew Chang said he was joining forces with Spotify to bring an app to the Apple Watch. Chang was working on his own app — originally called "Spotty" but then changed to "Snowy" under copyright objections — before announcing in April 2017 that his work would instead form part of the official Spotify app. Apple Watch apps are packaged as part of iPhone apps, and users install pairs as a single download.
Apple's endorsement of Spotify would also show some support for third-party music services. Apple Music, created after the company bought Beats Music and its associated streaming service for $3 billion in 2014, has slowly caught up on Spotify. Thanks to a combination of deep Siri support, native support with the HomePod smart speaker, and Apple watch integration, Apple Music is set to overtake Spotify in terms of United States subscribers by the summer.
The big unknown at this point is how developers use StreamKit to ditch the phone in new ways. With essential data sent to the wrist, it could enable users to leave the phone at home even more often.
Third party support for StreamKit is no certainty, though — Twitter silently ditched its Apple Watch app last September.