The Future of Augmented Reality Is "Virtual Wearables"
Control a phone without looking at it.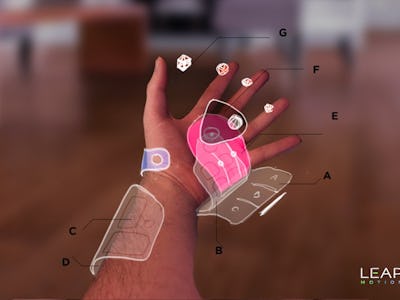 Twitter
Many people became familiar with augmented reality when Pokémon GO hit smartphones in 2016. Now, one company wants to take the next step with on-demand virtual tools called "virtual wearables."
Keiichi Matsuda, creative director and VP design at Leap Motion, showed off the company's augmented reality user interface prototype on Twitter on Thursday. In the video, a hand is seen through a special AR headset, and when flipped palm side up, three tabs appear on the hand. The tabs are interactive and can pull up a menu, but what's interesting is that similar to a mouse on a computer screen, a finger can only interact with the virtual buttons at specific points. This interface could be the next step for smartphone and virtual reality device as it allows for the use of a device using just a pair of hands and empty space.
"The screen and controller are not the pinnacle [sic] of what technology can achieve," Matsuda said during the "Defining the Laws for a Parallel Reality" session at the Game Developers Conference (GDC) last week. "We're now moving into a new age of immersive media."
Leap Motion is a VR/AR developer based in San Francisco. The company has been working on hand-tracking software for virtual and augmented reality devices, which Matsuda showcased in other videos on Twitter. He was brought into the company last October to lead the company's London design research studio. Prior to joining Leap Motion, Matsuda created videos exploring what the future of augmented reality could look like.
"Virtual wearables" are still in their early stages. Leap Motion has shown off their progress at various tech events including SXSW and GDC and has plans to work with VR/AR hardware manufacturers in the future.
With the hand-tracking software, VR devices such as the Oculus Rift or HTC Vive could work without the use of a controller or other hand-controlled devices. Smartphones users may be able to use all the functions of their phone without having to look at the screen.