Here's What Trump May've Been Watching on 'Shark Week' with Stormy Daniels
What shark-tastic specials did they binge?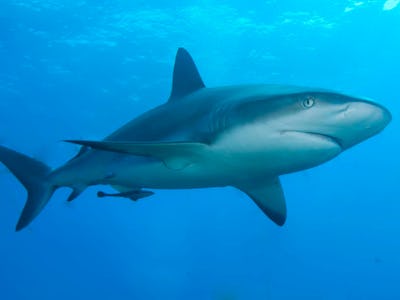 Wikimedia Commons
Among all the hoopla surrounding the alleged Stormy Daniels affair with the president, one minor yet important detail stands out: reportedly binging Shark Week.
Daniels alleges that Trump made her watch the annual Discovery Channel television event during one of their meetings in July 2007. That year's installment also happened to be Shark Week's 20th anniversary, complete with hours of programming focused on the gory sea predators and their attacks on humans. The 2007 edition of Shark Week began airing on Sunday, July 29 and continued for the next week for 18 hours per day.
"I remember arriving, and he was watching Shark Week, " Daniels said during a Sunday interview with 60 Minutes. "He made me sit and watch an entire documentary about shark attacks."
In case you want to reenact the four-hour marathon Trump and Daniels had almost a decade ago, here is a run down of what aired during Shark Week that year. In 2007, Shark Week kicked off with with Ocean of Fear: The Worst Shark Attack Ever a two-hour special about a massive shark attack on the USS Indianapolis submarine during which sharks fed on its men in the Philippine Sea. Perhaps Daniels and Trump watched the vivid documentary, which included reenactment of the violent incident, during their marathon.
Or maybe the duo watched the "Deadly Stripes: Tiger Sharks", which highlights the sudden appearance of the sharks deemed the "garbage cans of the sea," which aired on July 30. Other classic Shark Week specials that week included the self-explanatory title "Top 5 Eaten Alive" and "Shark Feeding Frenzy," which explores the habits and patterns of the way sharks feast.
"He is obsessed with sharks. Terrified of sharks," Daniels once told In Touch Weekly of the incident. "He was like, 'I donate to all these charities, and I would never donate to any charity that helps sharks. I hope all the sharks die.' He was, like, riveted. He was, like, obsessed."