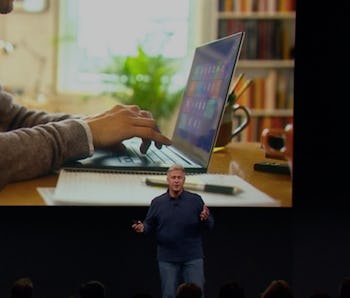 Innovation
5 Apple Products Rumored to Be Released on March 27
No, it's not a new iPhone. 
Apple's upcoming event on March 27 is not a typical show for the company. It won't take place on the Apple Park campus in Cupertino, California and there will not be a livestream. Instead, it will be at Lane Tech High School in Chicago.
Invites for the event said, "Join us to hear creative new ideas for teachers and students." The focus of the show is education, but there could be more for fans to get excited about.
New Affordable iPad:
Bloomberg reported that Apple will announce a more affordable iPad. Schools across the country already made use of iPads in the classroom, but Google Chromebooks and other devices have taken away some of the educational market share from Apple.
Cheaper Macbooks
Earlier this month, KGI Securities analyst Ming-Chi Kuo issued a report to investors about a cheaper Macbook Air. MacRumors reported a rumored price tag of $799-$899 for the new Air. However, another report from Digitimes suggested a new Macbook, not Macbook Air, will be released at a more affordable price.
AirPower
At their iPhone X reveal, Apple revealed their answer to wireless charging called AirPower. MacWorld reported in February two rumors – one from a source at Best Buy and another from an Asian supplier – that the hardware could be made available by the end of March.
Apple Pencil Support
There's a high demand for the Apple Pencil, but it only works with the expensive iPad Pro. KGI Securities analyst Ming-Chi Kuo said Apple Pencil support is likely for the new low-cost iPad. It's unknown whether this will be in the form of a lower-priced Apple Pencil or expanded support for non-iPad Pro tablets.
Educational Software/Coding Initiatives
As this is an educational event, it would make sense for Apple to announce new education software or coding initiatives. Last year, Apple showed off Swift Playgrounds, which teaches kids how to do simple programming to control drones and robots via an iPad or iPhone. 9to5Mac reported in February a development framework called ClassKit was included in iOS 11.3. It will allow developers to create educational apps that let students fill out questionnaires that can be sent to the teacher via iCloud.
To find out which rumors came true, a video of the Apple event will be made available after it concludes.