Galaxy S9 "Dead Zone" Screen Issue: What to Know
Turns out people want a working touchscreen.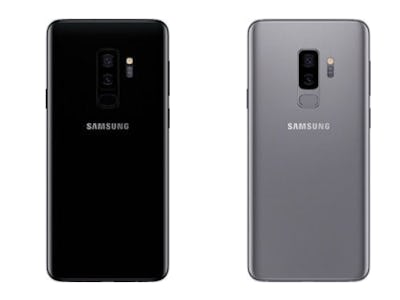 Samsung
In the week since the notch-less Samsung Galaxy S9 hit the market, some customers have reported finding touchscreen "dead zones" on their new phones. Because Samsung's otherwise durable smartphone has literally no physical buttons, a faulty touch screen can render the S9 effectively unusable.
Given that the phone is brand new, it's unclear how many customers have found dead zones on the touch screen. Still, there have been numerous reports of the malfunctioning device on Reddit and Samsung community forums, including videos showcasing the dead zones. In one video, the entire middle section of the phone appears to be unresponsive to touch, completely disrupting the user experience. Another video shows multiple dead zones scattered around the screen, preventing the user from continuously swiping down on the phone.
In a public response, Samsung didn't seem super concerned with the problem and says it's investigating the reports now. "At Samsung, customer satisfaction is core to our business and we aim to deliver the best possible experience. We are looking into a limited number of reports of Galaxy S9/S9+ touchscreen responsiveness issues. We are working with affected customers and investigating," a Samsung spokesperson told CNET. "We encourage any customer with questions to contact us directly at 1-800-SAMSUNG."
If you have an S9 with a faulty touch screen, your best bet is to take Samsung's advice and call up customer service. Under Samsung's one-year warranty, touch screen issues should make you eligible for a phone replacement.
While the dead zone problem is a huge problem for afflicted customers, we won't know if it's an inherent design flaw, a widespread software bug, or simply an uncommon malfunction that's responsible until we know the number of faulty devices.
At any rate, a defunct touch screen is definitely not ideal. But at least it's preferable to a smartphone that explodes.