Galaxy S9 Breakability Test Outshines the iPhone X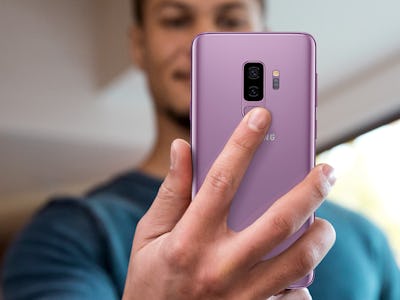 Samsung
With Samsung's lauded Galaxy S9 and S9+ having hit the market earlier this month, the reviews and durability analyses are pouring in. The most recent among these arrives courtesy SquareTrade, Inc., which put both phone screens to the drop and tumble test. In the end, the Galaxy S9 proved more durable than its iPhone X contemporary — but that doesn't mean it won't crack.
SquareTrade, an extended warranty service provider owned by Allstate, shared a video on its YouTube channel Monday showing hairline cracks and shatter effects in single six-foot drops for each model. In a nearly 2-minute clip, SquareTrade dropped, tumbled, and bent both the S9 and the S9+ to mixed results.
As SquareTrade noted early on in its durability review, with every smartphone release seemingly comes a more fragile screen. This one was no exception — even in spite of Samsung's own claim that the S9 series boasts increased durability. Both face-down and back-down drop tests saw issues with breakability. Both the S9 and S9+ shattered during back-down tests. During the face-down drop, the S9 suffered loose glass and hairline cracks, while the S9+ shattered with starburst cracks.
SquareTrade gave the Galaxy S9 a medium breakability score of 71, while it gave the Galaxy S9+ a medium-high risk score of 76. However, it did ultimately determine the S9 was more durable than the iPhone X. In a statement to CNET, SquareTrade global creative director Jason Siciliano said: "All of that glass means that durability has actually gone backward over the past year."
It looks like there's no way around taking extra precautionary measures for the time being. With these durability metrics, we'd advise the case and the tempered glass.