What Is Headspace? The NBA-Approved Tool For Mental Health
'To perform your best, you need to know how to train the mind.'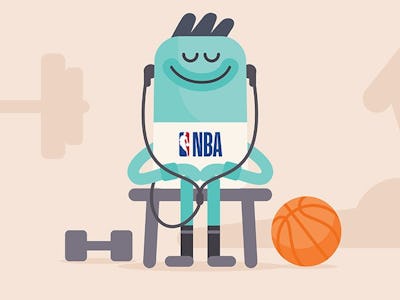 Headspace
Cleveland Cavalier's Kevin Love made news at the start of March not for dominating the court as a power forward, but for being a powerful and unexpected mental health advocate. In a first-person essay published in The Player's Tribune, Love spoke about his own struggle with panic attacks and encouraged people to not be afraid of speaking to a therapist. On Tuesday, the National Basketball Association took the baton from Love and announced its own own mental health initiative: a partnership with the mindfulness and meditation app Headspace.
The partnership gives all NBA, WNBA, and G-League players and employees subscriptions to the app, which typically costs subscribers $96 per year. According to the Wall Street Journal, no money was exchanged in the deal. What Headspace gets in return is a high-profile endorsement, a boon when between 75 to 80 percent of its users come from word-of-mouth referrals. The NBA will also help Headspace produce guided training content and feature those programs on its own app and platforms. Some of the services Headspace already provides include meditation training to deal with grief and how to not get trapped in the rumination surrounding regret.
The Wall Street Journal reports that the idea for this partnership first was floated in October after Headspace founder Andy Puddicombe was asked by a NBA player the best way to get back into the game after a missed shot. At the heart of the deal is the league's hope that meditation and mindfulness training will help prepare players for competition — a cultivation of the brain NBA players haven't been offered before.
"In the NBA, you have trained professionals to fine-tune your life in so many areas," Love wrote in reference to his own panic attack during a game. "Coaches, trainers, and nutritionists have had a presence in my life for years. But none of those people help me in the way I needed when I was lying on the floor struggling to breathe."
While some psychologists are concerned that mindful meditation may be overhyped, leading to a proliferation of bunk science products, studies do show a scientifically verifiable benefit to the practice. According to the National Institutes of Health some research suggests practicing meditation can reduce blood pressure, symptoms of irritable bowel syndrome, anxiety, depression, and insomnia.
What it really comes down to, reports Carnegie-Mellon University psychologists in a 2017 study, is an accepting mindset going into mindfulness interventions. To actually buffer stress via a meditation app, you must keep an open mind going into it — otherwise, it doesn't matter how many NBA-endorsed training sessions you have.