Samsung's QLED TVs Blend Into the Wall, but It'll Cost You
The future doesn't come cheap.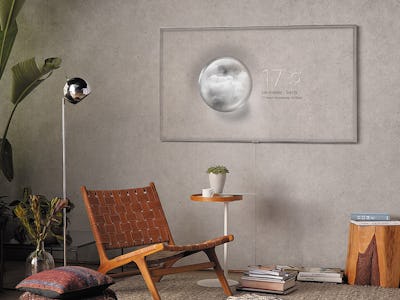 Samsung
Samsung revealed the pricing of its QLED range of TVs for this year, and it won't come cheap. The company has pulled out all the stops to design screens that stun in the home, with an "ambient mode" that blends into the wall and a slim connector that avoids a big mess of wires.
The "ambient mode" involves the user taking a photo of the wall before they mount the screen. When the TV switches off, it displays the image (along with some basic widgets) to make it seem like it's blended in, switching off fully after a while longer. It's a similar pitch to the 65-inch Frame that launched last year, which switches to an art piece when off and features a frame-like border. These new Samsung screens won't come cheap, though — the company's website shows the range starts at $1,499 with the 55-inch QN55Q6F, and rises to a staggering $6,000 for the 75-inch QN75Q9F behemoth.
These screens don't just show your existing wall, though. The "Q" in QLED stands for "quantum dot," and it uses dots of varying sizes to produce colors (smallest for blue, largest for red) in a way that boosts efficiency and precision for color reproduction. The higher-end models use Direct Full Array to adjust backlighting to deliver deeper blacks, but it won't offer the same results as OLED screens like the iPhone X.
Beyond image quality, Samsung is going all-in with smart. The TVs use Bixby to offer voice commands, similar to the ones featured on its Galaxy smartphone range. THere's also a new universal guide to organize content, as well as options for controlling compatible devices.
The screens aren't exactly the same as the Panasonic ones seen at Japan's CEATEC show two years ago, which turn into a complete mirror when off, but Samsung's offering shows how a plain black screen on the wall could disappear sooner than expected.
While TVs are the first step, perhaps it won't be long before smartphones also try to disappear from the user's hand.