What to Expect from Bixby 2.0, Samsung's Answer to Siri
The first version was cool but failed to understand users.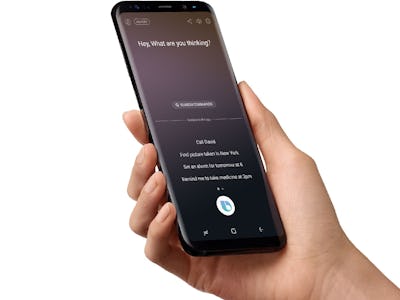 Samsung
Samsung is heavily rumored to launch a new version of its Bixby voice assistant on Wednesday. The new model would look to improve on the promising but flawed initial version, potentially pointing a way toward a voice assistant that can give Apple's Siri a run for her money.
Bixby, first unveiled in March, supports three modes of interaction between phone and user. The first, a side button that activates voice commands, works much like other assistants. But Samsung has paired these abilities with the camera, gallery and internet apps to provide contextual information like QR code reading and landmark detection. Bixby also uses A.I. to learn a user's routines and quickly access what it thinks you're most interested in seeing from a special panel on the home screen.
While the assistant has been praised for its deep integration with apps and services — you can ask Bixby to "post my last photo on Instagram" — it struggles with understanding users at times. Samsung struggled with getting Bixby to understand English during its development, and as a new assistant it has far less data to work with than established competitors.
"When the assistant's voice features work, it's magic, and the potential is there," Tom's Guide said in a July review. "Sadly, though, it seems our only choice is to be a little more patient with Bixby — and maybe try to help by hitting that little heart icon once or twice."
Korea Herald reports that's all set to change, as Chung Eui-suk — a Silicon Valley veteran who previously worked on the Galaxy Nexus and Samsung Galaxy Tab — has taken over Bixby's development with an eye to fixing the initial bugs. When Samsung takes to the stage this week, it will be with the expectation that it can build on the promising foundations.
"We will supplement the incomplete parts of Bixby 1.0 at Bixby 2.0," Koh Dong-jin, Samsung head of mobile business, said at a media conference for launching Galaxy Note 8 in August. "Outside developers will participate in the development of Bixby 2.0, although they could not for Bixby 1.0 due to time shortage."
Beyond a better voice activation system, Samsung may take the opportunity to expand the Bixby ecosystem further by taking advantage of the fact that Samsung makes a far wider variety of products than, say, Apple does. With deep integration, a new version could control a Bixby-enabled Samsung smart fridge. Assistants like Siri already provide a level of smart home integration through platforms like HomeKit, but a single manufacturer could make setting up such a smart home easier than ever.
Rhee first outlined this vision back in March when Bixby was unveiled:
Starting with our smartphones, Bixby will be gradually applied to all our appliances. In the future you would be able to control your air conditioner or TV through Bixby. Since Bixby will be implemented in the cloud, as long as a device has an internet connection and simple circuitry to receive voice inputs, it will be able to connect with Bixby. As the Bixby ecosystem grows, we believe Bixby will evolve from a smartphone interface to an interface for your life.
If Samsung can pull all that off, it has a serious chance to distinguish itself.