'Black Lightning' Reveals More Links to Arrowverse and 'Supergirl'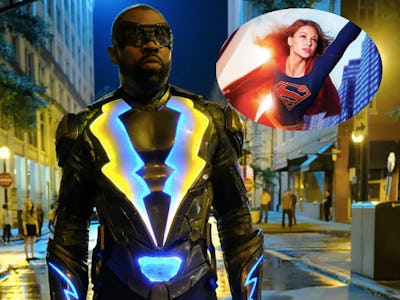 The CW
Tuesday's episode of Black Lightning put young Jennifer Pierce through the ringer. The teenager discovered her sister Anissa has powers, but for fans, the biggest shock might've been when the Pierce family namedropped a few Arrowverse heroes.
During Jennifer and Lynn's chat during "The Book of Little Black Lies", the mother and daughter shout out a couple heroes from across the Arrowverse. Lynn tries to comfort Jennifer, but she is in no mood, saying her mother couldn't understand what she's going through as a superpowered hero unless she was actually Vixen. Lynn responds, "No, I'm not Vixen or Supergirl. Just mom."
Black Lightning has made alluded to its relationship with the rest of the Arrowverse before. While the world is separate from the adventures of Team Arrow and Flash, the DC heroes do exist in Black Lightning's universe, just as comic book characters. We learned that when Grace Choi invites Anissa to a cosplay party and shows her a comic book about DC Comics team the Outsiders. Presumably, Lynn was referencing Vixen and Supergirl's comic book personas, rather than shouting out the Legends of Tomorrow and Supergirl iterations that she shouldn't know about.
These namedrops are small Easter eggs, but they do explain how a future Arrowevse crossover with Black Lightning would work. Jefferson and the rest of Freeland could just be an Earth away from any of the Arrowverse heroes and if any Black Lightning characters read comic, then they'll simply just be shocked to learn those heroes are real. Just on another Earth.
Black Lightning airs onnTuesdays at 9 p.m. Eastern on The CW.