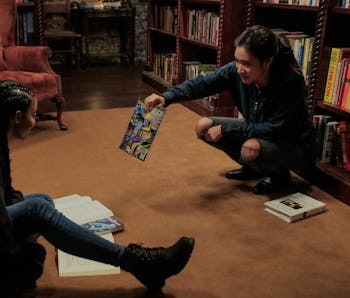 Entertainment
What that 'Black Lightning' Outsiders Comic Easter Egg Might Mean
The CW
The newest episode of Black Lightning introduced a pair of new recurring characters, Grace Choi and Lady Eve, but one of them, Grace, gave us an Easter Egg that could answer some questions about the show's future and its potential relationship to the Arrowverse.
Anissa Pierce (Nafessa Williams) is at a bookstore when she meets bartender Grace, who has a comic book sticking out of her back pocket. The comic book has a DC logo on it and is about a team of superheroes called The Outsiders. The meta moment is also surprising because casting Chantal Thuy as Grace brought with it the potential of The Outsiders to Black Lightning. Having her carrying them in her back pocket was a surprising choice.
The Easter Egg could have implications for Anissa's story moving forward and also explain that on Black Lightning's Earth, the Arrowverse only exists in the comics the citizens of Freeland read.
Anissa's road to Thunder in the comics involves her eventually joining the Outsiders because she feels she could do well working with a team. While the scene in the bookstore is Anissa and Grace's meet-cute, it could still lead the show to The Outsiders. The team is made up of heroes with powers that for various reasons put them on the outside of the superhero community. In Anissa's world, those with powers could be seen as outsiders. The moniker or the idea to work together because of their status in society can still lead Anissa, and any friends she makes along the way, to form the group.
As for the Arrowverse, even if they are only an Earth away, as far as Freeland is considered The Green Arrow, The Flash and the rest of the Arrowverse's heroes live in the pages of comic books. Grace explains that the bar she works at has a party where everyone dressing up as their favorite hero, specifically the names DC heroes Supergirl and Looker are dropped, which described parties that the viewers themselves may attend. It puts distance between the other superheroes and Freeland and, by extension, the Arrowverse.
While in the past Black Lightning has been said to be outside of the Arrowverse, this development relates the new series to the universe CW viewers know and love. Even if it put an Earth's distance between them. After all, it's how Supergirl was introduced into the universe. She was spending her days saving National City with her sister and team then Barry Allen showed up, explained the multiverse and added another layer of strange onto her life.
Whether it happens or not, Grace opened the door a crack if the powers-that-be decide to go that route. And she did it all with a comic book.
Black Lightning airs Tuesdays at 9 p.m. Eastern on The CW.