'Black Lightning' Isn't in the Arrowverse, for Now
The show's co-executive producers say nay to the Arrowverse, but is the door open?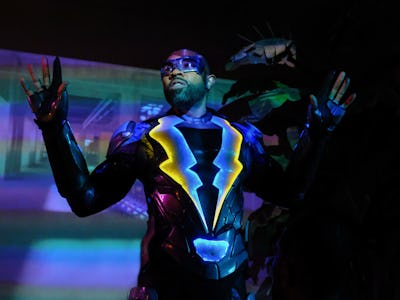 The CW
The CW network is packed to the brim with superheroes, and later this month, one more will join the ranks: Black Lightning, featuring DC's first African-American superhero as played by Cress Williams. But it won't be part of the interconnected "Arrowverse," a shared television universe comprised of Arrow, The Flash, Supergirl, and Legends of Tomorrow (and retroactively, Constantine). Now, Black Lightning's producers have explained why the new series is standalone.
At the Television Critics Association press tour on Sunday, co-executive producers Salim and Mara Brock Akil said Black Lightning is on its own simply because the producers were allowed to make it as such.
"This idea of why they're not in this universe or why they're not in the Justice League [cinematic universe] is because … [the studio told us] 'You've got to do this the way you want to do this. You're going to live and die by that, and we support you.' That's what you're seeing," Akil said.
Salim Akil also added that the other "Arrowverse" shows don't completely mesh well with their vision for Black Lightning. "I say this with all due respect, but they're not really relevant to the show that we're doing," he said.
Unlike the other DC TV shows, which focus on millennial-aged vigilantes and misfit freaks, Black Lightning is a family-centric saga starring a middle-aged superhero struggling to keep his family together while fighting crime. In Black Lightning, Williams stars as Jefferson Pierce, a school principal who returns to life as a superhero when gang activity spikes in his neighborhood and school district. Joining Pierce is his eldest daughter, Anissa (Nafessa Williams), who also suits up as the superhero Thunder.
So Black Lightning will be on its own, but could things change for the super-charged superhero? There's precedent for live-action DC TV to eventually cross paths with the other capes and hoods.
In 2015, Supergirl premiered and was also billed as being independent from the other DC shows, but eventually, Kara Zor-El met Barry Allen (of The Flash) and now they're best friends. The two series technically take place in different universes, but those two worlds cross-over fairly often. Thanks to the established "multiverse" continuity, any new superhero show like Black Lightning can be included, no problemo. Akil even left the possibility open, saying: "We really wanted folks to get to know this family before we started branching out."
Perhaps it's only a matter of time before Black Lightning joins the Green Arrow and The Flash to fight more aliens and Nazi doppelgängers.
Black Lightning will air January 16 at 9 p.m. Eastern on The CW.