Facebook's Mark Zuckerberg Could Lose $10 Billion in 48 Hours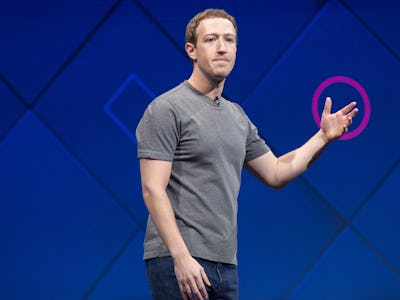 Flickr / Anthony Quintano
Facebook CEO and founder Mark Zuckerberg has lost nearly $10 billion in wealth over the past two days. If Facebook stock prices hold, or drop even further by the time markets close on Tuesday, Zuckerberg will possibly be demoted to the seventh richest person in the world from his previous perch at fourth.
Facebook's stock took a precipitous dive on Monday morning following news of the Cambridge Analytica scandal. Last Friday, it was valued at $184, but it has since dropped by around 11 percent and is valued at $162 at time of writing. Because most of Zuckerburg's fortune comes from his more than 400 million shares of Facebook stock, his wealth, and his spot on the Bloomberg Billionaire Index, is very sensitive to changes in stock value.
It's not particularly surprising that Facebook is facing this kind of financial fallout. Company stock has always been reactive to PR dumpster fires like the Cambridge Analytica revelations, and social media platforms are no exception.
Last month, Snapchat's stock took a nosedive following critical reception to its app redesign and some negative press from the so-called "Queen of Snapchat," Kylie Jenner. And last week, Snapchat's stock value took another hit after the app ran an offensive ad making light of domestic violence and was chastised by Rihanna on Instagram.
Facebook's current woes aren't restricted to the stock market. In the wake of reports that Cambridge Analytica used Facebook user data to create elaborate psychological profiles of 50 million users, many have advocated for deleting the app entirely. To make matters worse for the social media giant, the Federal Trade Commission is reportedly investigating Facebook to see if the company breached a government privacy agreement.
You know what they say: It's rough out there for a 33-year-old uber rich dude who is actively ripping apart the fabric of society.