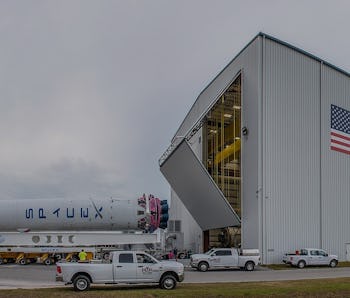 Science
SpaceX Raises $500 Million From Investors
Elon Musk make money moves. 
SpaceX
It's been a week since Elon Musk declared his intention to start testing a Mars spaceship, and now, SpaceX is about to receive an injection of a lot of money.
In another round of financing, SpaceX could see an additional $500 million in funding, as reported by TechCrunch. The big supplier of this influx of cash is none other than the founder and CEO, Elon Musk.
Sources said Musk will invest $100 million into the company to buy more shares. The other $400 million will come from investors who want a piece of the SpaceX action.
The Department of Defense also threw in $291 million this week in the form of a contract with the U.S. Air Force to launch military satellites, as reported by CNBC.
It's been a busy 2018 so far for SpaceX. In February, it successfully launched the first Falcon Heavy rocket into space making it the highest payload capacity rocket. Included in the payload was a Tesla Roadster with a mannequin in a spacesuit called "Starman."
Earlier this month, the aerospace company completed its 50th launch of the Falcon 9 rocket that included the launch of the largest geostationary satellite in its history. SpaceX's goal is to complete 30 Falcon 9 launches this year.
While speaking at SXSW on Sunday, Musk talked about the planned Mars spaceship. He said the first test for the ship will happen in early 2019.