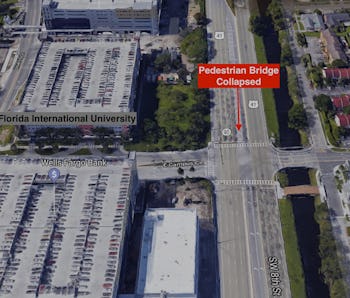 Culture
10 Images Showing the Devastation of the Pedestrian Bridge Collapse
Several people were killed in the incident.
Several people were killed in Miami after the collapse of a pedestrian bridge at Floridan International University.
The 950-ton bridge crumbled onto a busy intersection in front of the university Thursday afternoon, injuring several people and crushing cars beneath it. The local authorities have yet to release the exact number of fatalities.
The walkway was 174 feet long and was intended to give FIU students a simple and safe way to cross the busy street. It was slated to open some time next year.
After the tragic incident, students, residents, and journalists took to the streets to broadcast the devastation.
The widely circulated video above showed someone caught up in the disaster, and a partially crushed car is seen covered in debris. The person filming the video appeared to be the owner of the vehicle.
"Look at what happened to us…Thank god nothing happened but the cars in front of us…the people died," he says. "God, we were saved by luck."
This video was taken from an apartment building across the street from FIU. Someone in the video stated that there was a construction worker on top of the bridge when it came down.
The firm that was in the process of constructing the bridge released a statement almost immediately after the news of the collapse began circulating.
"Our deepest sympathies are with all those affected by this accident," it read. "We will fully cooperate with every appropriate authority in reviewing what happened and why. In our 40-year history, nothing like this has every happened before. our entire team mourns the loss of life and injuries associated with this devastating tragedy, and our prayers go out to all involved."
The United States Department of Transportation released a statement in response to the incident.
"Our thoughts and prayers are with the victims, their families, and first responders who are assisting in the on-going rescue and recovery efforts following today's tragic collapse of a pedestrian bridge at Florida International University," the department said.
The statement went on to say that multiple city and state leaders were contacted to begin taking appropriate measures in the aftermath of the collapse. Those contacted included Florida senators Bill Nelson and Marco Rubio and Congressmen Mario Diaz-Balart.
Cranes have been dispatched to lift the rubble from the intersection. It's likely officials won't know the extent of the damage done until debris from the collapse is cleared away.