'Avengers: Infinity War' Marathon: Which MCU Movies Are Included?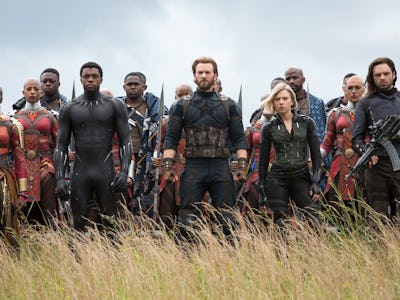 Marvel Entertainment
How much do you love the Marvel Cinematic Universe? Do you love it enough to spend 31 hours straight in a dark theater? If so, you're in luck. (And insane.) Theatre chain AMC will screen "31 hours" of Marvel Studios films in conjunction with the upcoming release of Avengers: Infinity War on April 27. But after some basic math, 31 hours leaves out at least two films. So what Marvel films won't be screened?
On Tuesday, AMC's website uploaded a scarcely-detailed webpage reserved for the "Avengers: Infinity War Marathon," with a lone "Remind Me" alert and a confirmed runtime of 31 hours, with trailers. There are no other details or even Marvel artwork on the webpage.
AMC has done major Marvel marathons before. In 2015, to mark the release of Avengers: Age of Ultron, AMC hosted a 28-hour marathon of Marvel movies, which included everything from 2008's Iron Man to 2014's Guardians of the Galaxy, before ending with Age of Ultron. But in the three years since, even more Marvel movies have been added to the library, including Ant-Man, Captain America: Civil War, Thor: Ragnarok, and most recently, Black Panther.
According to calculations by BingeClock, the entire theatrical MCU — not including Blu-ray/DVD "One Shots," TV shows, and Black Panther, for some reason — runs at a total 36 hours and two minutes.. With Black Panther, that runtime rises to a little over 38 hours. That leaves at least two movies out of AMC's marathon, which means completionists may have to do some watching at home. But which ones are likely to be excluded?
A likely contender could be 2008's The Incredible Hulk, which has been screened in past Marvel marathons. Not only was the Edward Norton film distributed by Paramount, its relevance to the MCU has weakened over time. The famed "mid-credits" scene with Tony Stark (Robert Downey, Jr.) no longer makes sense canonically, as it tried set up the Hulk as the antagonist in The Avengers which absolutely did not happen.
Furthermore, the recasting of Banner with Mark Ruffalo in The Avengers has basically overwritten what Norton gave to the character. And Banner's love interest Betty Ross (played by Liv Tyler) has been virtually forgotten. In fact, Banner's big romantic partner is now Black Widow, a pairing that started in Age of Ultron and will be revisited in Avengers: Infinity War. Aside from William Hurt reprising Thaddeus Ross in Captain America: Civil War, you can erase The Incredible Hulk and not lose anything big.
Another possible omission could be Spider-Man: Homecoming. Like The Incredible Hulk, Tom Holland's solo outing as Spider-Man was distributed by Sony instead of Marvel. Though unlike Hulk, the film has significantly stronger ties to the MCU. Holland will reprise his role in Avengers: Infinity War.
A third option could be 2013's Thor: The Dark World, although it would be wise to give moviegoers a chance to nap during the 31 hours.
Avengers: Infinity War will be released in theaters on April 27.