Apple Acquires "Netflix of Magazines" in Latest Bid to Dominate All Media
Apple is in the media game.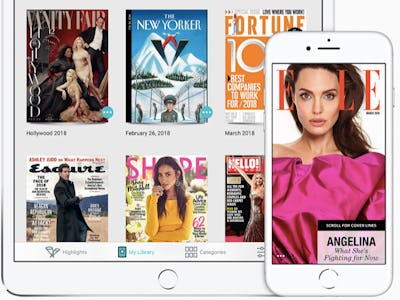 Apple
Apple announced its acquisition of digital magazine subscription service Texture — the so-called Netflix of magazines — on Monday, further solidifying Apple's place in the media sphere.
"We're excited Texture will join Apple, along with an impressive catalog of magazines from many of the world's leading publishers," Apple SVP Eddy Cue said in a statement. "We are committed to quality journalism from trusted sources and allowing magazines to keep producing beautifully designed and engaging stories for users."
Texture was created in 2010 under the moniker "First Issue" as a collaboration between six different publishers, including Conde Nast, Hearst, and Time Inc. At the time, digital publishing was still a nascent field, and publishers were trying to understand the best way to monetize written content online. One method was creating digital newsstands, where subscribers could pay subscription fees to have magazines downloaded to their devices. Most of these apps, including Apple's own "Newsstand," which was absorbed by Apple News, were ultimately unsuccessful.
Texture, on the other hand, offered a larger subscription package that gave subscribers access to a wide range of magazines, rather than requiring people to pay for each different publication — hence the Netflix comparison. In 2016, CEO John Loughlin cryptically revealed that Texture had "hundreds of thousands of users," but didn't divulge any specifics.
Given Apple's interest in acquiring the magazine service, it seems like Loughin must have been hiding a lucrative secret. Currently, it's unclear what exactly Apple plans to do with Texture. For now, it seems like very little about the service will change. According to TechCrunch, Apple acquired all of Texture's employees, and Apple's statement didn't disclose further plans.
Whatever the final implementation, it's clear that Apple is committed to establishing itself as a trusted media platform. It's a crowded field, but if anyone's going to solve the misinformation epidemic, might as well be the company that helped put fake news in our pockets.