Martin Shkreli Cries in Court After Being Sentenced to 7 Years in Jail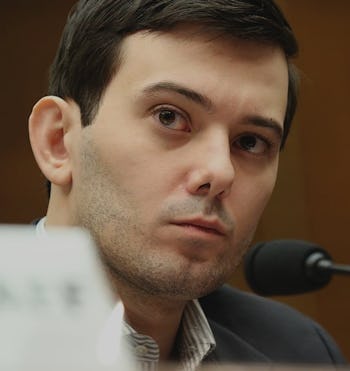 Wikimedia
Martin Shkreli, probably the internet's most loathed personality, is officially going to jail. The "pharma bro" reportedly wept Friday as a federal court judge in Brooklyn handed him a seven-year prison sentence.
The former drug firm executive, who first gained notoriety for gauging the cost of a life-saving HIV drug by 5000 percent, was convicted in August 2017 of securities frauds and lying to investors relating to two hedge funds he ran.
In a statement to the press following Shkreli's arrest back in 2015, U.S. Attorney Robert Capers said, "Shkreli essentially ran his companies like a Ponzi scheme, where he used each subsequent company to pay off the defrauded investors in the prior company."
Following the arrest, Shkreli stepped down from his CEO role at Turing Pharmaceuticals — the company that purchased the AIDS drug Daraprim and changed its cost from $13.50 to $750 per pill.
Earlier this week, prosecutors had pushed for a sentence of at least 15 years for the 34-year-old, saying that Shkreli lacked remorse and respect for the law. They cited an email correspondence Shkreli had sent in January where he allegedly wrote, "Fuck the feds," and said he hoped he would be getting a big tax refund this year since only his "liquid money" had been affected by forfeiture. Shkreli has been in jail since September.
Although the defense had asked for a prison term of 10 to 12 months, during a hearing on March 9 even Shkreli's own lawyer appeared to have a wavering ability to vouch for his client. "There are times I want to hug him," Ben Brafman said. "There are times when I want to punch him in the face."
On Monday, U.S. District Judge Kiyo Matsumoto had already ordered Shkreli to forfeit $7.36 million, likely meaning he will have to give up his coveted one-of-a-kind Wu-Tang Clan record, which he used as a prop for being extra obnoxious on his YouTube channel. It's unknown if Shkreli will be able to continue his incredibly boring YouTube channel, doling out financial advice from inside the can.