Martin Shkreli, the Internet's Most Hated Man, Has Been Convicted
Shkreli was found guilty on three of the eight charges he faced.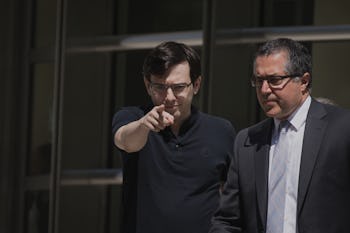 Getty Images / Drew Angerer
Briefly a pharmaceutical magnate, Martin Shkreli was convicted of two counts of security fraud and one count of conspiracy to commit security fraud on Friday for deceiving investors during his time as a hedge fund manager.
Shkreli first entered the public consciousness in 2015 when the pharmaceutical company he founded and operated, Turing Pharmaceuticals, increased the price of a medication called Daraprim from an affordable $13.50 to $750 per pill. Daraprim was primarily used to treat toxoplasmosis, a parasitic infection to which people with HIV are especially vulnerable.
This price hike sparked immediate outrage, which Shkreli attempted to combat by stating that his company was not trying to "gouge patients," but rather use the money from the increased price of Daraprim to create a more effective treatment for toxoplasmosis. The public was not mollified by this excuse, however, and Shkreli was derisively labeled a "pharma bro."
Shkreli's other moments in the spotlight were just as unflattering. Later, in 2015, Shkreli paid $2 million for an unreleased Wu-Tang Clan album, Once Upon a Time in Shaolin, much to the dismay of the public. He then followed his purchase with a controversial interview during which he called Wu-Tang member RZA "fucking full of himself," stated his intention to bail out jailed rapper Bobby Shmurda, and called himself "the most successful Albanian to ever walk the face of this Earth."
These comments apparently riled up Wu-Tang Clan members to the extent that some now claim Shkreli's December 2015 arrest, on the eight charges of security fraud, saved him from violent retaliation by the Clan's affiliates. Shkreli then leaked two tracks from the album following President Donald Trump's inauguration.
He was also banned from Twitter in 2017 for harassing journalist Lauren Duca, first inviting her to join him at Donald Trump's inauguration, then by photoshopping himself into pictures with Duca and her husband and making the resulting image his Twitter banner. Nearing the end of his trial, Shkreli seems to have made further comments about Duca, which she responded to on Twitter below.
Apparently, his past actions and smug attitude made it actively challenging to find jurors who did not already dislike Shkreli. The jury deliberated for five days before finding Shkreli guilty on some, though not all, of the securities fraud charges brought against him.
Now that he has been convicted, Shkreli faces up to 20 years in prison, though he is likely to receive a lighter sentence because he is extremely rich.