Martin Shkreli Played Wu-Tang Album For First Time via Livestream
Cash Rules Everything Around Martin.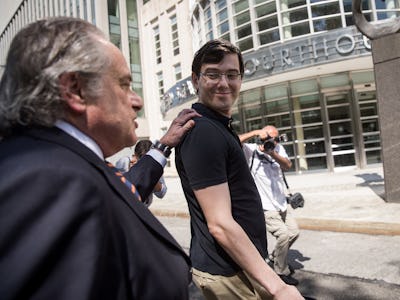 Getty Images / Drew Angerer
In the wake of his conviction on three counts of security fraud-related crimes, Martin Shkreli took to Youtube to equivocate, speak with a reporter, and stream the Wu-Tang Clan album which he infamously purchased for $2 million in December 2015. Shkreli did play several tracks from the album in honor of President Donald Trump winning the 2016 election, but this was his first time playing the album in its entirety.
Youtube comments on the livestream exploded as soon as Shkreli began playing Once Upon A Time In Shaolin, which he and the female reporter interviewing him continued to talk over. They discussed Shkreli's attitude towards women and the negative press coverage that he received as hitherto unreleased bars from one of hip-hop's most legendary groups played in the background.
The interview, which Shkreli said was impromptu as it drew to a close, was conducted in Shkreli's apartment. Barefoot, Shkreli spoke candidly to the reporter about how he felt he was treated by the judge during his trial and the fact that he eats McDonald's every day.
A comment from Shkreli, in which he claimed to have "donated $2 million to the Wu-Tang Clan," prompted him to begin playing the album. Shkreli stopped playing the album after the female reporter left, declining a drink from Shkreli during her exit.
See also: How a Group of Kids Remade Martin Shkreli's $750 Drug for $2