James Cameron's Next 'Terminator' Movie Might Have Found Its Star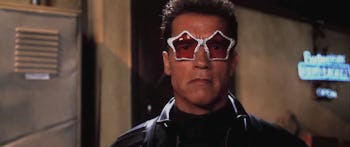 Warner Bros.
James Cameron is returning to the Terminator franchise that he began in 1984, and if the rumors are true, then the film's first star has been cast.
On Thursday, Variety reported that actress Mackenzie Davis was in negotiations to play a non-robotic lead character in the new film. Also on Thursday, Hollywood Reporter added that her character would be some kind of "soldier-assassin on a mission."
Sci-fi fans will recognize Davis as one of Ryan Gosling's love interests in Blade Runner 2049 but also as the lead in "San Junipero," one of the best Black Mirror episodes ever. She's also a star on AMC's Halt and Catch Fire.
If she's eventually confirmed for the new Terminator movie, then she'll quickly be on her way to becoming a sci-fi it girl, and probably even a household name.
"Insiders" say that Davis would effectively become the new face of the franchise. But producers are supposedly also looking for a Latina to play a leading role that might span for three movies in a brand-new trilogy.
This sixth Terminator film will be the first James Cameron has worked on since Terminator 2: Judgment Day (1991). So if the last several Terminator movies turned you off, then you have every reason to hope this one might be a lot better.
Specific details about the plot still haven't been announced, but supposedly the new movie will be a direct sequel to T2 rather than some kind of reboot. Linda Hamilton and Arnold Schwarzenegger are returning to the franchise, probably as Sarah Connor and some kind of Terminator, respectively.
But comments from Cameron in August made it seem like Schwarzenegger might actually play the human template that was used to build humanoid faces for the many Terminators.
Could Mackenzie Davis's character be on a mission to kill that template, thereby preventing the Terminator from ever existing in the first place? Or is she going on a classic Terminator mission back in time to protect and preserve the Connor family tree at some point in the past?
We'll find out soon enough.
The currently untitled sixth Terminator film is scheduled for release on July 26, 2019.