Wu-Tang Clan Son Predicts His Crypto Will Spark a "Chain Reaction"
Young Dirty plans to launch his token soon.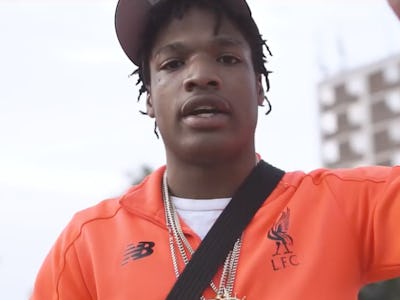 Up Now/YouTube
Young Dirty, the son of Wu-Tang Clan rapper Ol' Dirty Bastard, is launching his own cryptocurrency. Dirty Coin is the latest example of a musician getting involved in the digital token market, and the mind behind the venture sees cryptocurrency as "the biggest thing known to man."
"If fans basically bought a Dirty Coin before the concert, they have a better chance of getting in, probably for the price of nothing. So it's a big opportunity for our fans," Young Dirty, real name Bar-Son James, told CoinDesk in a Tuesday interview. "When other artists get involved, I think there's gonna be a chain reaction."
Many have joked that the Wu-Tang Clan's lyrics represent sound investment strategies. A 2003 episode of Chappelle's Show featured a financial consulting firm dubbed "Wu-Tang Finance," offering advice like "diversify yo bonds." In a nod to the 1994 single "C.R.E.A.M.," the narrator reminds viewers that "cash rules everything around us."
The name was later used in 2012 for a financial commentary Twitter account that has nearly 150,000 followers. In October 2017, Wu-Tang Clan member Ghostface Killah took things one step further and actually co-founded a cryptocurrency venture called Cream Capital, with "Cream Dividend" tokens funding the venture in an initial coin offering.
Fans will be able to use Dirty Coin to access shows and buy merchandise themed around both Young Dirty and his father, who passed away in 2004. Proceeds from the token will be used to fund Young Dirty's upcoming album.
Young Dirty is not alone in his musical crypto ambitions. Björk announced in November 2017 plans to offer 100 Audiocoins to fans that purchased her album "Utopia," redeemable for real cash or tradeable as part of a music-centric ecosystem. A similar scheme by 50 Cent where he accepted Bitcoin for his 2014 album "Animal Ambition" led to the claim in January that the 700 bitcoins he earned have now made him a billionaire. The rapper revealed the following month under oath that it was untrue, suggesting that he did not correct the story sooner because it wasn't damaging his image.
Dirty Coin will be traded on the AltMarket exchange, powered by the TAO blockchain network. An "initial artist offering" is expected to be held this summer. It could be the start of a major shift in music.