Bjork is Giving Away Cryptocurrency if You Buy Her New Album
"Utopia" is set for release this month.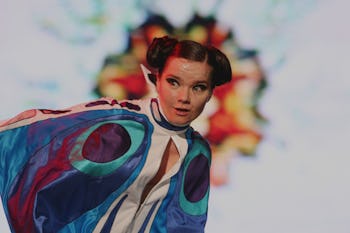 Getty Images / Koichi Kamoshida
Björk is giving away free cryptocurrency with her next album, it was revealed on Thursday. Fans that purchase "Utopia" will receive 100 Audiocoins alongside their purchase, in a collaboration with British blockchain startup Blockpool.
"People have done things with crypto and artists before, but this is the first time a global artist has done anything like this," Blockpool CEO Kevin Bacon told Musically. "While it will be interesting to see how the crypto community responds to this, Utopia is also a gateway for people to go into crypto for the first time. Björk is the best artist in the world we could imagine doing this."
At the time of writing, the included cryptocurrency is worth around 26 cents. It's not a lot, but fans don't need to cash out straightaway. They can hold onto the currency, trade them for other cryptocurrencies like bitcoin, or exchange them with others.
"To cash it back out would be a wasted opportunity, I think," Bacon said.
Launched two years ago at the MIDEM music conference in Cannes, France, Audiocoin is aimed at integration with existing music platforms. The cryptocurrency has bold ideas behind it, promising to chart a new path for the music industry as a whole that moves away from streaming models like Spotify. In its launch press release, the creators said:
Our remit was to empower and engage music lovers all over the world and to break down any barriers that prevent music consumption even in third world countries. It needed to unshackle the need for young music lovers to borrow their parents credit cards to use iTunes or Spotify. Most of all it needed to create a global and ethical music ecosystem that was robust, exciting and open to everyone.
Björk plans to give fans more Audiocoins over the course of a two-year campaign, for actions like sharing links to music. The team has yet to settle on the finer details of how fans can earn more coins, though.
"Utopia" is set for release on November 24. Listen to first single, "The Gate," below: