Spotify and Hulu Just Announced a Sick Package Deal For Students
Maybe you can skip the ramen for a night.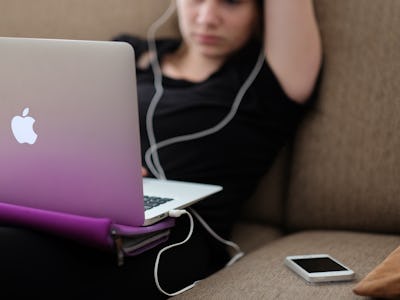 Unsplash / Steinar Engeland
College kids, rejoice: Spotify and Hulu announced a rollout of a new, heavily discounted bundle rate for students on Thursday that might not lighten the burden of your student loans, but will save you a ton on your streaming services.
Students "enrolled at a U.S. Title IV accredited college or university, and above the age of 18" are now eligible to pay $4.99 a month for access to Spotify's premium streaming service and Hulu's premium Limited Commercials plan. This two-for-the-price of neither deal.
Spotify and Hulu ordinarily cost $9.99 and $7.99 a month, respectively, which means that students who pounce on this new offer would end up with a savings rate of $155.88 annually.
Users who want to switch to access this student discount, or who already subscribe to Spotify Premium and want to switch over to the new rate, can visit Spotify's website to sign up for the package.
But Spotify is not letting just anyone get in on this deal. There is a multistep verification process, and if the company can't confirm that you're a real college student through a service called SheerID, you don't get access to the discount.
When I attempted to sign up with my still-active college email address as a recent graduate, I was quickly rebuffed.
So college students, capitalize on this bargain while it's still available. According to the eligibility guidelines, students even get to continue paying this rate post-grad for 12 months to the day that they subscribe or re-up their subscription.
But for everybody else: keep shelling out for both services individually, or just stick to Youtube and "borrowing" your friend's ex-roomate's HBO GO account.