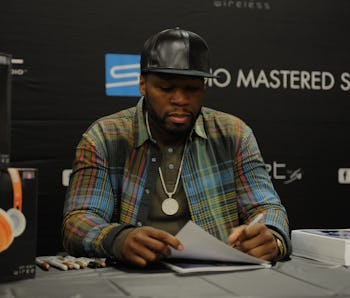 Innovation
Et Tu, 50 Cent? Rapper Says Under Oath He Doesn't Actually Have Any Bitcoin
This is nothing short of a travesty.
Flickr / TigerDirect.com
Cryptocurrency enthusiasts and early 2000s rap fanatics have all been duped by none other than Curtis Jackson, better known by his rap alias 50 Cent.
In January, news broke that the hip-hop mogul had conveniently "forgotten" about an online wallet full of approximately 700 bitcoin tokens, which he had received as payment for his 2014 album Animal Ambition.
Given how the price of bitcoin has increased in the past four years — even allowing for recent drops — a digital currency stash like that would be worth somewhere in the ballpark of $7 million and $8 million today. But newly discovered court documents reveal that Jackson says he doesn't even have, say, two quarters' worth of bitcoin.
On Monday, The Blast published paperwork that made it clear Jackson was flaunting a nonexistent bitcoin fortune.
"I do not personally own, and have not owned, either a bitcoin account or any bitcoins," stated the rapper.
He even handed over screenshots of his BitPay account that showed a couple hundred transactions, which suggested that bitcoin purchases barely contributed to the overall sales for Animal Ambition.
It turns out that Jackson did accept bitcoin payments for the album, but but he used a third party to immediately convert the into dollars at the time.
When asked why he encouraged this faulty coverage Jackson essentially responded by saying: If it isn't damaging, why correct it?
"As a general matter, so long as a press story is not irreparably damaging to my image or brand, I usually do not feel the need to publicly deny the reporting," explained the rapper. "This is particularly true when I feel the press report in question is favorable to my image or brand, even if the report is based on a misunderstanding of the facts or contains outright falsehoods."
While good publicity might have been worth it at a time of looming bankruptcy, Jackson probably wishes that he had hung on to the bitcoin. But hindsight is always 20/20.
50 Cent might be a rap-game royalty, but now he's looking like a bit of a crypto "Wanksta."