Apple's Headphones Will Pack HomePod Tech for Superior Audio
The company is learning from past success.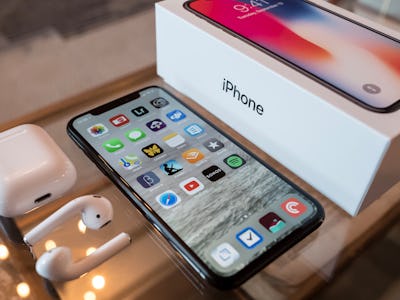 Unsplash / Drew Coffman
Apple is planning some big improvements to its audio lineup. The company is planning a new set of over-ear wireless headphones that prioritize superior audio quality, after the success of its HomePod smart speaker that showed the company can deliver impressive sound on a small scale.
Bloomberg reported on Monday that Apple plans to release the headphones at the end of the year, but this could change as the product has faced development challenges.
If it comes to fruition, it could see the company offering high-quality audio in a tiny package. HomePod, the $349 Siri speaker that launched last month, has wowed critics by its ability to deliver "rich and full sound" despite measuring under seven inches tall by 5.6 inches wide. Apple senior vice president of worldwide marketing Phil Schiller shared a review from Reddit's "audiophile" subreddit that said the product "deserves a standing ovation."
In its current form, the headphones would feature noise cancellation and the same wireless pairing functions seen on the AirPods wireless earphones. The W1 chip contained in the $159 headphones offer instant pairing and the ability to hold a strong Bluetooth connection. A future update to the AirPods under the codename "B288" is set to bring wireless charging, waterproofing, and a "Hey Siri" feature that invokes the voice assistant without the user touching the product.
It sounds like uncharted territory, but NPD Group research actually showed that 27 percent of wireless headphone sales last year went to Apple. This also covers Beats headphones, the brand acquired by Apple in a landmark $3 billion deal in 2014. While Apple used the Beats Music platform to start its Apple Music streaming service, integration of the headphones themselves into the product line have been limited to minor changes like the use of the W1 chip in some products.
Apple is a big player in headphones, and now it looks like it might seek to strengthen its reputation.