Nor'easter Pulls Down Historic George Washington Monument Tree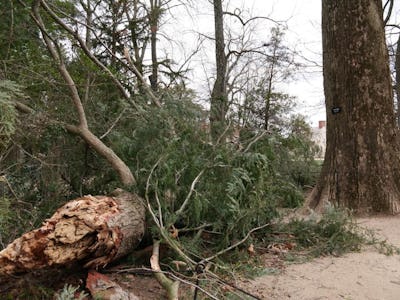 George Washington Mount Vernon
The nor'easter storm that hit the east coast of the United States on Friday claimed a historic tree in its path of destruction. The Mount Vernon estate in Virginia revealed that a 227-year-old Canadian Hemlock, which the estate claims was planted by George Washington, was among the many trees that fell down in the area.
The tree, reportedly planted by Washington in 1791, was described as the "best documented tree on the property" by the estate's horticulture director, who claims that the hemlock arrived in a half-whiskey barrel at the estate as a gift from George Clinton, the then governor of New York. The tree was planted by Washington outside the upper garden gate. Rob Shenk, senior vice president for visitor engagement at the estate, also confirmed this.
Although the tree had a long and historic life, it suffered from rot at the core and faced tough conditions on Friday. The storm was particularly severe due to the "bombogenesis" process that transformed the storm into a bomb cyclone. Atmospheric pressure drops — which can happen when cold air mixes over warm water in the Atlantic Ocean — can intensify wind speeds. A study conducted in 2002 found 40 bomb cyclones occur in the Northern Hemisphere every year. A previous cyclone earlier this year pushed bitterly cold winds from Florida to Long Island after a 53-millibar drop in pressure, far larger than the 24 millibars used to define "bombogenesis."
Ultimately, it was too much for the tree and one other cyprus near the property's crypts, with the Hemlock falling around two-fifths of the way up:
It's unclear what will happen to the tree now, but the estate indicated that they could create new products from the tree as it has done in the past.
"We will definitely be exploring our options," the estate said on its Facebook page. "In the past, we have made wood products from trees that have fallen at Mount Vernon and made them available at the Shops at Mount Vernon. There is a lot involved in processing wood and determining what's possible, so it may take a little time to figure out what we can do, so be sure to check back here for updates!"
However, Shenk noted that Hemlock wood is not the best variety for woodwork, and the tree's extensive rot could also prove a challenge.