What Is a Bomb Cyclone? The "Bombogenesis" Will Come to Life Friday
Winter Storm Riley is set to hit the east coast.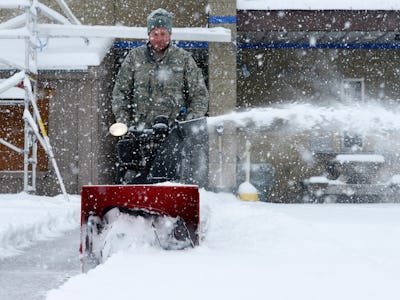 Flickr / The National Guard
The Northeast of the United States is set for a "bombogenesis" snowstorm on Friday. It sounds rather dramatic, but bombogenesis or "bomb cyclone" is used by meteorologists to refer to a rapidly intensifying mid-latitude cyclone. "Mid-latitude" refers to latitudes between the tropic and polar regions, exactly the sort of storms the East Coast is positioned to experience.
The National Oceanic and Atmospheric Administration describes a "bombogenesis" as "when a mid-latitude cyclone rapidly intensifies." Atmospheric pressure has to drop at least 24 millibars over 24 hours to qualify. These drops can happen when cold and warm air collide, like over warm water in the ocean. The resultant storm after the process is called a "bomb cyclone," which is what the region went through on January 4.
Additionally, "Winter Storm Riley" is set to intensify due to this rapidly dropping air pressure. Up to three inches of snow are expected in New York City Friday afternoon, temperatures are set to drop to around 35 degrees Fahrenheit, and gusts of up to 60 miles per hour are set to cause power outages. It's not just the Big Apple experiencing big storms: Ann Arbor, Michigan, has already seen 3.1 inches of snow in two-and-a-half hours on Thursday.
View the data below from the agency, which shows "bombogenesis" data from the first two months of 2014, when 14 of 20 hurricane-force events underwent the process:
These storms are more common that it may seem. A study conducted in 2002 found 40 bomb cyclones occur in the Northern Hemisphere every year. Friday's "bombogenesis" event has meteorologists concerned, though, as it could lead to larger consequences.
"The wind is a great concern," Accuweather senior meteorologist John Feerick told New York Post. "The wind pushing the water in from the ocean can cause moderate to major coastal flooding."
It's not the first "bombogenesis" to hit the country. A previous bomb cyclone this year started forming off of Florida, moving up the coast to Long Island after a 53-millibar drop.
In October 2010, one unusually formed over land to drop to 955.2 millibars and hit the midwest with hail and tornadoes. A 2014 storm called Typhoon Nuri intensified past wind speeds of 80 miles per hour after passing from Japan to Alaska, dubbed by the Washington Post as "bombogenesis to the extreme." Riley looks set to intensify, but it won't be the first time it's happened.