Bomb Cyclone: What Today Will Be Like
Anticipate frigid temperatures and very strong winds.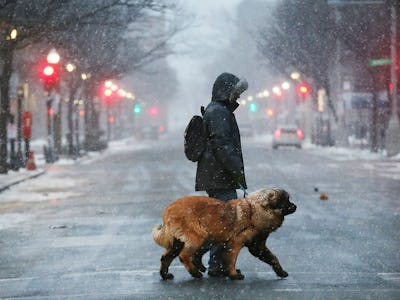 Getty Images / Spencer Platt
While a "bomb cyclone" sounds more like a dance move horny teens would try out in the mid-2000s, today in 2017 it's the force behind the very real Winter Storm Grayson currently pummeling the East coast. The storm is qualified as a bomb cyclone because of the immediate drop in atmospheric pressure that accompanies it: Between 1 p.m. on Wednesday to 1 p.m. on Thursday, the minimum central air pressure of the storm is anticipated to drop from 999 millibars to 946 millibars. For those hunkering down, that means intense winds, snowstorms, and frigid temperatures.
Blizzard warnings and emergencies are in effect in Delaware, Maine, Maryland, Massachusetts, New Jersey, Rhode Island, and Virginia. Across the Northeast, 2,000 flights have been cancelled and schools are closed in New York City, Boston, Philadelphia, and Washington D.C.
Here's what else to expect over the course of the storm: