Just 12 Tweets Celebrating 'Get Out' Winning Best Original Screenplay
"I want to dedicate this to everyone who let me raise my voice."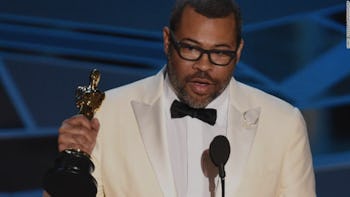 Jordan Peele's groundbreaking Get Out is a total game-changer for the film industry, and it's officially gotten some honest recognition from Hollywood's Academy Awards. People across Twitter are totally freaking out to see that the film getting recognized for its achievements with its first win for Best Original Screenplay.
On Sunday at the 90th Academy Awards, Get Out won the award for Best Original Screenplay, beating out The Big Sick, Lady Bird, The Shape of Water, and Three Billboards Outside Ebbing — each of which was a real contender.
Get Out is one of the most widely nominated films at the 90th Academy Awards, but Jordan Peele is also only the third person ever to be nominated for directing, writing, and producing his own film. And he's won at least one of those categories so far.
Already, fans on Twitter are totally freaking out and sharing their hilarious reactions:
Never forget his expression just as he walked off the stage:
Here's an extra look at that moment one more time:
And this hug he shared with the lead actor of the movie, Daniel Kaluuya:
Rest assured, this is a big deal:
So much of what Peele said in his speech has resonated with people:
And of course, he's gotta mention how his mom influenced him:
It's an inspirational message to anyone who's ever had a creative project that they keep returning to:
Remember that this is the same exact silly man from Key and Peele:
Just look how happy his partner in crime is:
But seriously — and hilariously — what does this mean for Key and Peele?
Ever the good sport, Kumail Nanjiani offered a bit of levity to the mix. (Do the Oscars actually have second place?)
Peele himself already tweeted about it: