Twitter Went Nuts Over Jordan Peele's 'Get Out' 
The incredibly smart horror movie has people shook.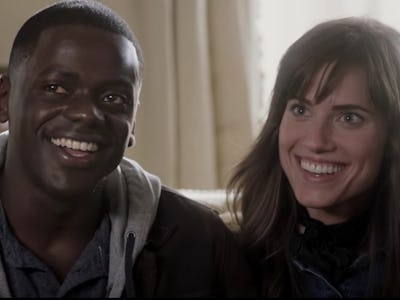 Universal 
Jordan Peele's smart, provocative horror film Get Out topped the box office with a $30.5 million opening weekend. The racial satire revolves around a black man (played by Daniel Kaluuya) who visits his white girlfriend's parents for the first time at an isolated estate. Naturally, things do not go smoothly. While Get Out is hardly the first horror movie about racism — classic zombie film Night of the Living Dead had a black man wrongfully killed by a white mob — it's galvanized audiences like no other.
The film could have easily been a routine horror story with overtly racist parents, but it's smarter and more nuanced. Initially, the parents seem liberal and open-minded. It's the all too real daily microaggressions that add up: a policeman taking a special interest in the black man when he stops the couple, relatives touching Kaluuya's muscles, the parents' manic insistence on how much they love Obama. The suspense builds through insidious means until the ultimate conspiracy unfolds. To say it would be to spoil it, but Twitter absolutely went nuts over Get Out. Here's a round up of the best reactions.
Unlike a typical horror movie — where the Twitter response would be exclamations over its craziest moments — the number one reaction was earnest appreciation for the film's centering of the Black American experience.
However, the movie isn't all horror, either. It does have its moments of humor, as Jordan Peele is half of the Key and Peele comedic duo — and Twitter also went nuts over its funniest component: the protagonist's best friend, Rod.
The remaining reactions were salty and fired-up.
Get Out is currently in theaters.