Jordan Peele Has Thoughts About a 'Get Out' Sequel
Would you go back to the Sunken Place?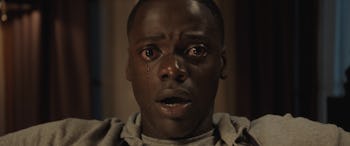 Universal Pictures
Whenever a film does well there's one conversation that is sure to follow: What about a sequel? In a world of cinematic universes and huge franchises, there's a constant desire to build something bigger in entertainment. When it comes to 2017 smash hit Get Out, Director Jordan Peele has some thoughts about a potential sequel.
In an interview with Collider published Tuesday, Peele offered his thoughts on making a direct sequel to his Oscar-nominated horror movie. "I love the world of this movie," Peel said. "But to be honest, I would never do a sequel if I didn't think it was going to beat the original."
The comment lines up more or less with previous statements Peele made earlier this February at the Academy's Nominees Night, when the director admitted he was seriously considering another installment: "I love that universe and feel like there's more story to tell," he said. "I don't know what it is now, but there are some loose ends, if you know the movie."
Peele is currently on a press tour leading up to the Academy Awards. Get Out is nominated for four awards: Best Picture, Best Director, Best Original Screenplay, and Best Actor for star David Kaluuya. These four categories make up some of the most prestigious awards available at the Oscars.
Get Out follows Chris (Kaluuya), a black man who notices strange behavior from the people of color working for his girlfriend Rose's (Allison Williams) family. The film is set in the Washington family's small town. We only ever see one small corner of this universe, so who knows what Peele might have in store for a potential sequel, whether it continues with Chris or not.
In many cases, a sequel just for the sake of it can be a horrible idea. But trusting Peele's original vision might be a smart move. If he finds a way to revisit that universe, then there's no doubt that many people to return to theaters to see what he's come up with.